If you can't decide on how to set a Thanksgiving table, or if you're looking for Thanksgiving table settings, then these ideas can help you out!
RELATED: Thanksgiving Table Ideas | This Is Everything You Need For A Perfect Thanksgiving Day
Thanksgiving Table Settings and Ideas to Try this Year
1. Gold Leaf Place Cards
|

Are you up for awesome Thanksgiving tablescape ideas? Make your place cards sparkle and shimmer in just a few easy steps. Grab some leaves, gold paint, and a Sharpie.
Then spray your leaves, write the names and you're done! Easy right?
2. DIY Geometric Clay Place Card Holders
|

This geometric clay place card holder will be a fun craft project you can try. Adding those mini pumpkins just completes this perfect Thanksgiving table setting.
3. Mini Pumpkin Florals
|

Adorable and simple, this pumpkin craft will work even beyond Thanksgiving. These mini Pumpkin Florals will give life to any Thanksgiving table setting.
4. Fall Tablescape with DIY Floral Plate Charger
A super easy floral plate charger that will work great even if you don't have any flowers available. These floral ensembles will certainly liven up your table setting like real flowers would do.
5. Kid's Thanksgiving Table Setting
Give your kids their own table and you can use this idea for their table setting. They certainly would love to help you out.
Doing things together with your kids simply builds lasting memories, not to mention the fun!
6. Printable DIY Placecards
|

What are you thankful for this Thanksgiving? Print this out and write it down.
It's good to write the blessings you receive each year.
7. Pilgrim Thanksgiving Kiddie Table
|

Kids get bored quickly. Give them other things to do aside from eating by following this kiddie table setting idea.
8. Leaf-like Napkin Rings
Make your own napkin rings by bending some aluminum wire into leaves. Let your creative juices flow and your imagination work and do some steel arts and crafts.
9. Easy Thanksgiving Table Decorations
By making these crafty leaves, you can make napkin rings, decorate mason jars, and place cards. If you have Thanksgiving table favors to make, accentuate them with this decor idea.
10. Simple Rustic Table Setting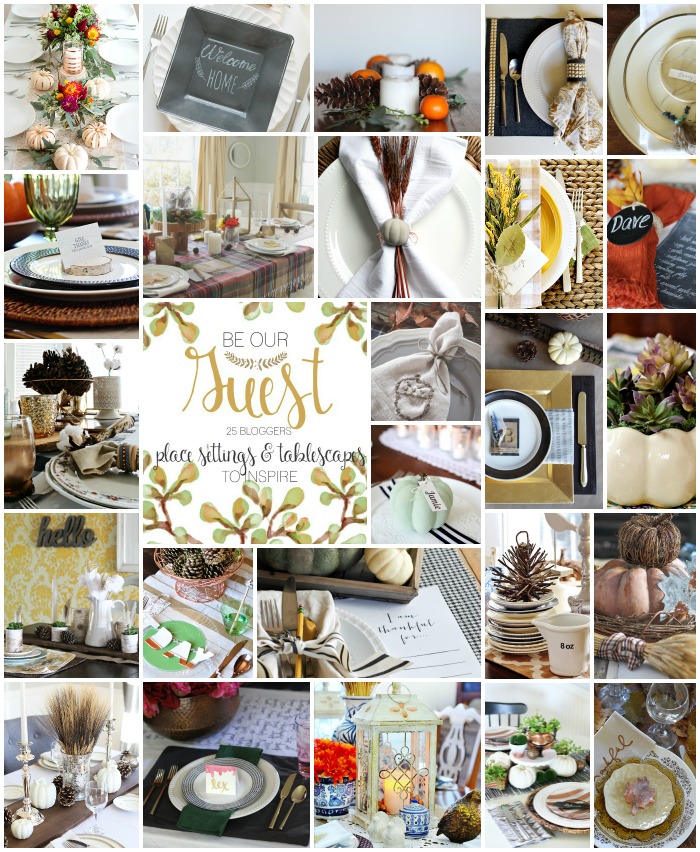 Want some rustic Thanksgiving table decorations? This simple rustic table setting idea complete with a warm welcome note for your guests is just the thing.
RELATED: 19 Charming Thanksgiving Centerpieces For A Homestead Table Setting
11. Printable Thanksgiving Napkins
|

Why just print on paper when you can print Thanksgiving cheer on napkins. You can do that with an iron and a printer, and some printable iron-on transfer sheets.
12. Clay Leaf Napkin Ring
|

Clay leaf napkin rings are cute and easy to make. I'm sure you'll feel like an artist after this easy yet fancy craft.
13. Simple Pumpkin Leaf Place Card
|

Harvested more than enough pumpkins for Halloween? Put those pumpkins to good use by following these easy steps.
14. Felt Placemat DIY
Don't really feel like using your old placemats this Thanksgiving? Make your very own with felt and get the template here along with the tutorial.
15. Log Candle Holders
|

If you're planning on taking it outside, this is a great inspiration on how to set your table.  The table pieces are simply perfect for the outdoor elements.
16. Turquoise + Orange Fall Tablescape
|

You have to agree, the color combination looks amazing. All the elements of fall are perfect to pull off a beautiful Thanksgiving table setting.
17. Party Table Setting
|

I just love how everything comes together in this table setting. Sometimes, you don't need all the drama in your centerpieces and Thanksgiving table settings. Less is more.
18. Black, White and Gold
|

Being pleasing and stylish doesn't mean being elaborate all the time. Look at this amazing table setting!
Black, white, and gold together is simply elegant.
19. Make it Rustic
|

This is another minimalist yet one of the most elegant Thanksgiving tablescapes. Here's a DIY tutorial to pull this look off.
20. Delightful Fall Tablescape
|

Well-thought and classy, these Thanksgiving floral centerpieces give a warm and welcoming feel to the whole table.
I would love to give this simple floral table setting a try. Wouldn't you?
Want to keep it traditional? Then check out this video from Southern Living:
With these warm and lovely ideas for Thanksgiving table settings, you now have an idea on how to set your table this holiday. You can mix and match the centerpieces, placemats, and napkins.
You don't need to buy all the materials because you can always upcycle what you have from last year.
So, what do you think of these Thanksgiving table settings? Which one will you try? Let me know how it went and share your experience with me in the comments section below!
UP NEXT: 
 
Follow us on Instagram, Twitter, Pinterest, and Facebook!
Editor's Note: This post was originally published on November 3, 2016, and has been updated for quality and relevancy.