Welcome the new season with fresh spring recipes! Learn how to whip up these simple yet hearty dishes in the comfort of your own homestead.
RELATED: 9 Ways To Get The Homestead Ready For Spring
Spring Recipes for Your Family | Breakfast, Lunch, and Dinner
Easy Spring Recipes You Can Cook With Seasonal Vegetables and Fruits
Spring is the time of the year when you can feel everyone abuzz with change! That's why it's on top of my favorite seasons.
It's the perfect chance to try something new, whether you want to add new plants to your garden, pick up a new hobby, and learn a new skill. Or, try new spring recipes from vegetables and fruits that come with the season.
Of course, the food you cook should be appropriate for the sunny yet cool spring weather. 'Tis the season for fresh veggies, tangy berries and citrus, and sumptuous pickles!
From spring dinner ideas to spring vegetable recipes, we've hunted easy recipes so in tune with the season. Read on to see some of my family's favorite spring recipes I'm sure yours will also love.
1. Hot Cross Bread and Lemon Pudding
Bread and butter pudding always reminds me of home. Add a spring twist to this classic recipe by adding lemon pudding!
The best part? It only takes an hour to make from scratch.
2. Chocolate Peppermint Tarts With Berries
When we say spring, seasonal vegetables and fresh fruits always come to mind. So, I'm loving this recipe for chocolate peppermint tarts with currants and berries!
Just when I thought chocolate and peppermint couldn't get any better—this recipe takes it to a whole new level.
3. Rhubarb Pie
Whether or not you grow your own fruits, every self-respecting homesteader should know how to bake a rhubarb pie. It's one of those essential spring recipes.
So if you need to brush up on your pie-making skills, this is the season to do so.
4. Pizza With Spring Onions and Fennel
Light flavors make for the best spring recipes. So, stay away from the oily, heavy pizzas and try this spring-worthy alternative.
It's also really healthy since fennel is packed with vitamin C, fiber, folate, and potassium.
5. Pickled Ramps
Looking for pickling ideas this spring? Ramps are a good choice.
Ramps are wild spring onions that are in season in, you guessed it—spring! It's the perfect pairing for all the sumptuous dishes you'll be whipping up this season.
6. Skillet Asparagus
Make use of that skillet of yours! Cooking asparagus on a skillet can really amp up the flavor (and nutrients). Try it out this spring.
7. Crockpot Baked Potatoes
Once I tried slow-cooked baked potatoes, I couldn't get enough. It's a no-fuss recipe you can leave cooking while you work on other, more labor-intensive dishes.
And you can add all sorts of spring-worthy toppings like sour cream, chives, or light cheeses.
8. Slow Cooker Stuffed Peppers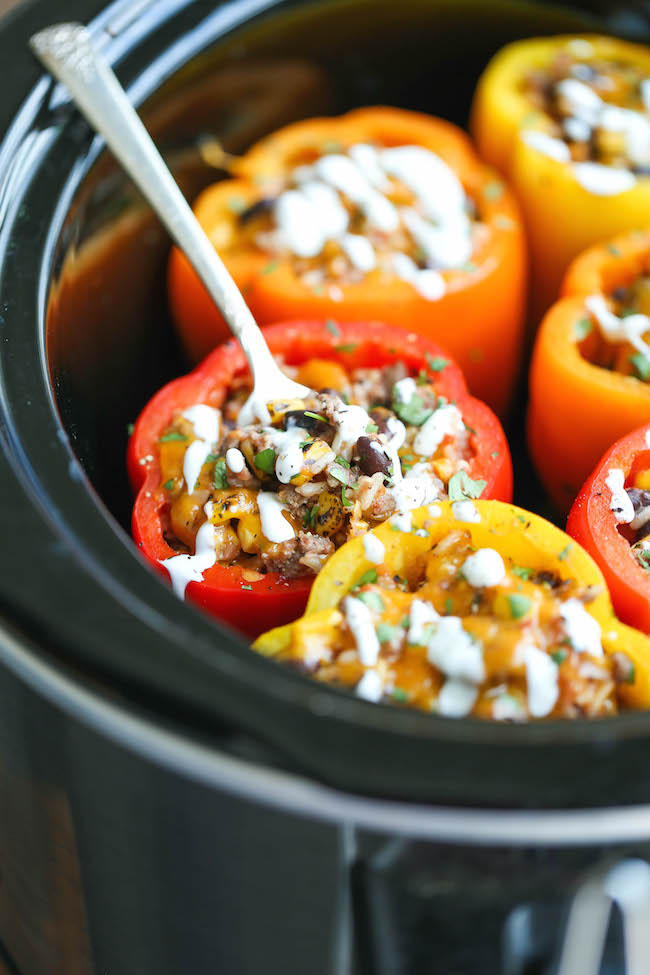 I love cooking with my crockpot—it may take more time than frying or grilling, but it's definitely less taxing.
These stuffed peppers can give your spring meals a spicy kick. I know what I'm making for dinner tonight!
9. Crockpot Minestrone
We don't usually associate heavy soups with spring, but this spring minestrone will change your mind. It has all the good stuff like carrots, tomatoes, beans, and asparagus.
10. Strawberry Salad With Warm Goat Cheese Croutons
I always try to mix up my salads and find new, fun combinations. Strawberries and warm goat cheese croutons are right on top of my to-try list! Doesn't the thought of the dish make you hungry?
11. Creamy Spring Pasta Bake
I usually go for fresh flavors for spring recipes, like spring fruits and veggies. But this creamy spring pasta recipe looks too good to resist!
Plus, the recipe calls for Swiss and parmesan cheese. Two kinds of cheese in one pot? Count me in!
RELATED: 17 Elderflower Liqueur Recipes And Cocktails For Spring And Summer
12. Oyster Mushroom and Spring Onions Frittata
Bask in the crisp spring morning air with a serving of oyster mushroom and spring onions frittata for breakfast. With fresh ingredients straight out of your garden, this is one spring recipe to boost your appetite.
13. Sauteed Asparagus and Peas
A perfect combo of seasonal ingredients in asparagus, peas, and shallots! Head straight to the farmer's market for the freshest asparagus you can get.
While fresh peas are romantic in spring, the recipe calls for frozen peas. I'd have to agree on this because fresh peas tend to get mushy and starchy when overcooked.
But, I can always get fresh peas this spring and freeze them for this perfect spring side dish.
14. Green Goddess Hummus Recipe
This heavenly mix of fresh herbs in parsley, tarragon, basil, and spring onions is one supreme hummus recipe, indeed. Make this delicious hummus by processing tahini, a whole lemon's worth of lemon juice, chickpeas, garlic, and fresh herbs.
It's not only the perfect dip for bread and chips, but a fantastic spread for sandwiches and topping for grilled meat and vegetables as well.
15. Arugula Salad With Shaved Parmesan Three Ways
Springtime is ripe for a scheme to have everyone in the family eating their greens. Insert any of these three ways to prep arugula salad in every meal and you'll have more eager diners with the jovial mood of the season.
16. Vegetable Spring Rolls With Peanut Sauce
Take your taste buds on a culinary cruise with this profusion of flavor and texture in a simple vegetable wrap served with an exotic peanut sauce. A bed of julienned carrots and cucumbers, shredded cabbage, chopped herbs with creamy avocado cushioned in rice paper wrapper is one heck of a food fiesta.
17. Roasted Artichokes With Lemon Vinaigrette
Seasonal vegetables like artichokes are best enjoyed during their prime — right in springtime. Try these roasted artichokes with lemon vinaigrette and you will better appreciate the unique flavor of artichokes.
It's a recipe with simple ingredients and a rather elaborate cooking process to highlight the freshness of the vegetable. Serve it with grilled meat or fish and enjoy this dish in a burp-inducing meal — a compliment to the cook, in my book.
18. Pasta With Sugar Snap Peas and Ricotta Cheese
A super easy spring recipe with literally three easy steps. First, cook pasta according to instructions.
Next, add sugar snap peas within the last three minutes to cooking time, and drain. Finally, combine with the rest of the ingredients. Easy-peasy, right?
19. Spaghetti With Goat Cheese, Lemon, & Arugula – Gluten Free
Use brown rice spaghetti to transform this delicious pasta dish into a gluten-free spring recipe. You'll get a healthy and light spring dish with peppery and tangy hints lingering in your taste buds.
20. Cream Cheese Potato Soup
This creamy and velvety cream cheese potato soup is going to have you drooling. It's the ultimate appetizer in the cold mornings of early spring.
21. Braised Radishes With Shallots and Bacon
Turn a simple spring recipe into a sensational side dish in a matter of minutes with braised radishes, shallots, and bacon. You will get what I mean while you're enjoying the flavorful spring dish caramelized in its syrupy juices.
Watch this video by Ingrid Nilsen for more spring recipes you can try at home:
Are you hungry yet? I sure am! These recipes make me want to race to my garden to pick fresh fruits and vegetables, then straight to the kitchen to whip up a salad and bottle some pickles. These spring recipes will make you love the season even more.
What are your go-to spring recipes? Share them with me in the comments section below!
UP NEXT:
Want more mouth-watering recipes? Check out these dinner ideas for two!
Follow us on Instagram, Twitter, Pinterest, and Facebook!
Editor's Note: This post was originally published on March 24, 2017, and has been updated for quality and relevancy.