Paracord is a versatile tool, so you'll love trying out these paracord projects and ideas. Keep reading and take your pick among these amazing ways you can use paracord.
RELATED: Gift Ideas For Men Who Love The Outdoors
DIY Paracord Projects and Ideas
Paracord 101
Paracord is now the more common term for parachute cord. As a homesteader, I hope you've encountered this amazing rope that is useful for survival scenarios and self-sufficiency.
Having this on your person at all times can potentially save your life. Still not convinced? Here are just a few reasons why paracord is an essential tool for homesteaders:
Paracord is…
Strong
Flexible
Stretchable
Weatherproof
Lightweight
Smooth to the touch for comfort
Does not break unless cut
Easy to cut with a sharp blade
The inner thread can be used when needed
Read more about paracord here!
That list is enough reason for me to always have paracord handy. Now that you know why paracord is beneficial, try these projects, knots, and paracord ideas!
1. Four Badass Paracord Knots
Before we go into all the paracord projects, it's very important to know these four paracord knots. You never know when the right knot might save your life.
When you're in a survival situation, you may desperately need to bind a very tight knot, tie two ropes to become one, or a tie knot that helps you rappel down a cliff.
2. Four Badass Paracord Hitches
Now that you know some knots, how about a couple of paracord hitches? By learning paracord hitches, you will know how to secure an object to a line.
There are hitches that you can easily untie and others are quite challenging to undo. Know when to use them in a given situation.
Exclusive: My preferred paracord survival tool is only 2 oz and fits anywhere. Grab it here.
3. Cutting 550 Without a Knife
A paracord is a very tough material. There are times when you need to cut it into two but you don't have a knife with you.
No knife, no problem. Here's a paracord cutting technique you can use in case you're caught without one.
4. Paracord Belt Project
Check out this easy-to-follow tutorial on how to make a paracord belt that ensures you'll have about 50 feet of paracord when you need it most. Put your weaving or braiding skills into action on some paracord.
5. 4-Strand Paracord Survival Bracelet
This paracord project is stylish, functional, and helps you make a paracord braid without using a paracord jig. From this easy paracord craft, you can come up with other craft and ideas like the ones we have below.
6. Paracord Bracelet Project
When you're exploring the outdoors, it's important to have paracord with you at all times. Why make just one kind of paracord bracelet when you can make more?
If you're into both homesteading and prepping, you will love these paracord survival bracelets.
7. Paracord Watchband Project
Is your watchband wearing out? This paracord watchband is absolutely durable and a lifesaver in certain situations especially when you're in the wild.
Try this cool DIY project for a more useful and strong watchband you won't have to worry about it to wear out.
8. Solid Gear Wrap
Do you often lose grip of your hammer while doing some woodworking projects? This usually happens due to your sweaty palms, but no worries.
Tools and weapons won't ever slip through your hands if you make this DIY gear paracord wrap. Getting a firm grip of your tools will also prevent accidents from occurring.
9. Paracord Project Knife Grip
Now that you have your gear covered, don't forget about a knife grip. Wooden grips have the tendency to break, but paracord grips don't and are easier to replace.
Pick different colors that suit your personality for your personalized knife grip.
10. Paracord Key Fob Project
Here's a cool DIY keychain that has a hidden compartment. Learn how to make this paracord keychain for your personal use and a great gift for friends and family who also love the outdoors.
How cool is this paracord key fob project?
11. Vapor Pen Lanyard Paracord Project
Vapor pens are all the rage these days, but they can be awfully expensive. If you're prone to being forgetful or clumsy, this Vapor Pen lanyard paracord project will keep your loving chemical brother safe and snug around your neck.
12. Snare Trap Paracord Project
You'll never know when the unexpected is going to happen so it's always helpful to know a thing or two about survival skills.
When you're out in the wild and need to hunt for food, this DIY snare trap will help you out.
RELATED: Simple Homemade Mosquito Trap
13. Giant Monkey Fist Paracord Project
Did you know you can also use paracord for self-defense? Imagine a pool ball wrapped inside a paracord like a clenched fist.
Make your own weapon, a giant monkey fist to defend yourself when necessary. Potential attackers will definitely think twice before getting too close.
14. DIY Paracord Wallet Project
A wallet made out of paracord? This video from MOD will show you how, so grab the materials needed according to the video and have fun making your paracord wallet.
It's just amazing what you can do with paracord!
15. Dog Collar Paracord Project
Even your furry friend can have his own paracord accessory. This dog collar paracord project is stylish and super durable, and it'll really look good on your pet buddy.
See how you can make a dog collar using paracord here.
16. Hammock Paracord Chair Project
When you just want to relax, this paracord hammock chair made out of paracord will be perfect. Well, just in case you unintentionally left your hammock at home and you have extra paracord to spare, this will help you out.
Watch this video from Intense Angler for the tutorial!
17. Paracord Project: DIY Headphones
I never thought paracord can be used for this purpose. Anyway, you'll never have tangled headphones ever again.
The best thing about this DIY headphone paracord project is, you don't have to make a single knot.
18. Paracord Bullwhip
For a homesteader, a whip is handy around your homestead. If you also love braiding, you will enjoy this paracord project.
Old-fashioned bullwhips are getting hard to come by, so find out how you can make one with this paracord bullwhip project.
19. Ring Paracord Project
It's really amazing what you can make with paracord. You can even try your skill in making a DIY ring with this video from The Weavers of Eternity Paracord Tutorials.
It's fun to do and kids will absolutely love it!
20. Paracord Pouch Project
Need something to hold your phone or put your valuables in? This paracord pouch is not only cute, but it's useful in an emergency or survival situation.
You'll be doing a series of cobra knots to make this pouch which is one of the most common lanyard knots used in the military.
21. Paracord Keychains, Earrings, and Pendant
The pipa knot came from the rich heritage of Chinese knots, which means it has been used for so many years. I like the way that it's pear-shaped and looks really beautiful.
Learn how to tie a simple pipa knot from paracord and you can make different accessories with it. You can make keychains, earrings, and a pendant with paracord in this easy tutorial.
22. 
De'Ana Star Paracord Project
Learn another fancy paracord craft and make the De'Ana Star from paracord. With this paracord fusion ties video tutorial from Tying It All Together, you try making more crafts from this technique.
23. Paracord Sandals Project
Now, this has truly surprised me. Some footwear you can make out of paracord is so much lighter than what you can buy at stores.
You can even repurpose your old footwear with this paracord idea and you would have approximately 40 feet of paracord in just one shoe.
24. Paracord Water Bottle Wrap

Carry your water bottle with ease in your very own paracord pouch. This paracord bottle wrap is made using the chain sinnet method.
It stores a large amount of paracord and it's pre-deployment-ready, so you won't have a hard time unraveling the paracord when needed for emergency purposes.
25. Paracord Headband Project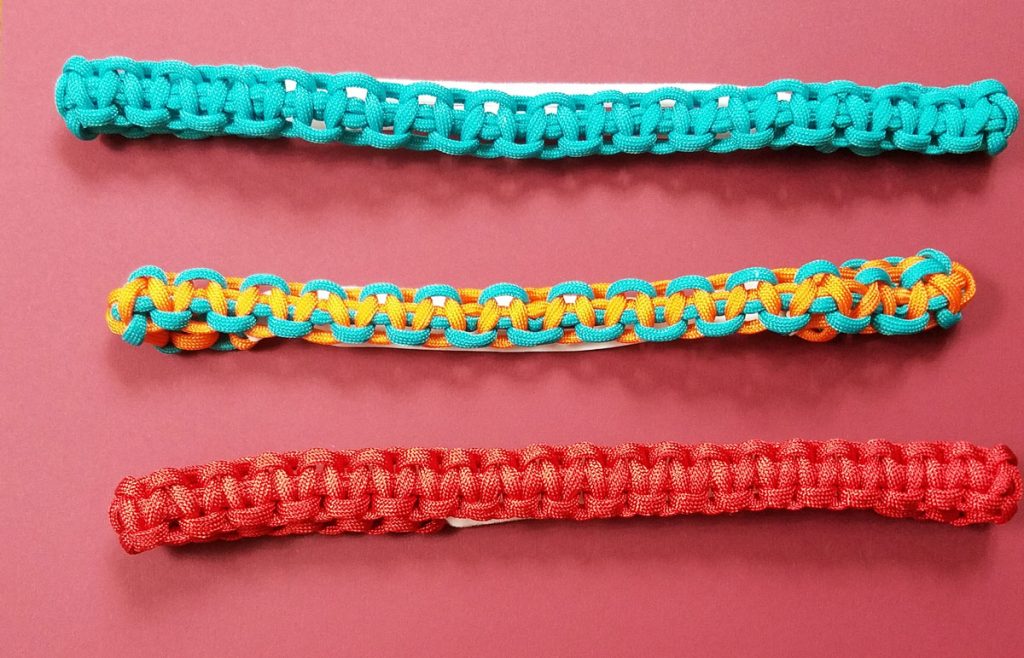 Whoever said you can't be stylish and prepared at the same time? Here's a cool craft for teens and for those who want to get started with paracord crafts.
This DIY headband is both beautiful and practical. It's sturdy and the cool mix of colors really looks nice!
Got time for one more? Try this Mad Max Snake Knot Paracord Bracelet Tutorial from The Weavers of Eternity Paracord Tutorials:
There you go, self-sufficient DIY buddies! Paracord projects and ideas which can be very handy around the homestead.
This is definitely one homesteading skill you should consider getting good at. Pretty soon you won't only be doing easy paracord projects for beginners.
You might go ahead and make advanced paracord projects to sell!
Which of these paracord projects will you give a try this weekend? Let us know below in the comments section below!
UP NEXT:
Follow us on Instagram, Twitter, Pinterest, and Facebook!
Editor's Note: This post was originally published on February 2, 2017, and has been updated for quality and relevancy.