If you haven't tried any of these Thai tea recipes, you're definitely missing out! Think of strongly-brewed black tea sweetened with sugar and milk, then served over ice. Yum, right? If you're ready to grab a glass, these Thai tea recipes I've rounded up won't disappoint. Learn how to make this refreshing drink and all its many variations with these Thai tea recipes!
Thai Tea Recipes For A Tropical Experience Right At Home
1. Homemade Thai Tea
https://www.instagram.com/p/BigUgRjgmT1/?tagged=homemadethaitea
You'll have your homemade Thai tea ready in just four easy steps. Learn how to make a Thai tea recipe from scratch and check out the full details from Homemade Recipes here.
2. Thai Coconut Iced Tea
What best flavor to let you imagine tropical beaches than coconut? Get this exotic coconut iced tea recipe from Renee's Kitchen Adventures.
3. Thai Lemongrass and Ginger Ice Tea
https://www.instagram.com/p/ivnb8oqTyl/?tagged=lemongrassandgingericedtea
This super healthy lemongrass and ginger ice tea will make you want to have some beyond the summer season. You can opt to keep it warm for colder seasons and add ice on summery days.
4. Thai Iced Tea Mix
Put a new spin on your Thai black tea by using cashew milk instead of the usual condensed milk. Get the full recipe from Popsugar here.
5. Thai Almond Milk Bubble Tea
Want a little more texture and bite in your drink? This bubble tea recipe from Love And Olive Oil will do the trick!
6. Sweet Thai Iced Tea
https://www.instagram.com/p/bFZC-kD5__/?tagged=sweetthaiicedtea
If you have a sweet tooth and a penchant for Thai tea, this recipe is perfect for you. This recipe calls for condensed milk but if you're also a health buff, use coconut milk and agave nectar to sweeten this drink.
7. Easy Milky Thai Iced Tea
If you don't have a lot of time for brewing, you'll appreciate this easy Thai iced tea recipe from Handimania.
Ever heard of dandelion root tea? We have a great recipe for it: http://t.co/GVaMGjFs1O #homemade #tea pic.twitter.com/BBWzLC7bSz

— Homesteading (@HomesteadingUSA) May 1, 2015
8. Three-Ingredient Thai Iced Tea
Everyone loves a recipe that needs only a handful of ingredients. See what these three ingredients are in this recipe from Pickled Plum.
9. Thai Iced Lemongrass and Pandan Tea
If you haven't come across pandan leaves yet, its the perfect time to get acquainted with this fragrant ingredient. The combination of pandan leaves and lemongrass in Thai tea is pure heaven. Luckily, pandan leaves are no longer hard to find, so try this Thai tea recipe now.
10. Homemade Thai Iced Tea
Pour your milk a la barista and see the color change from black to cream. Get the recipe here from Cooking A La Mel.
11. Low-Sugar Thai Iced Tea
Are you trying to cut down on your sugar intake? This recipe will allow you to enjoy a tall glass of a delicious Thai iced tea without the guilt. See the recipe here from Andrea Myers.
12. Vegan Thai Iced Tea
A little tweak and vegans can also enjoy this refreshing and creamy tea. Check out the full recipe from Minimalist Baker here.
13. Black Tie Coffee Recipe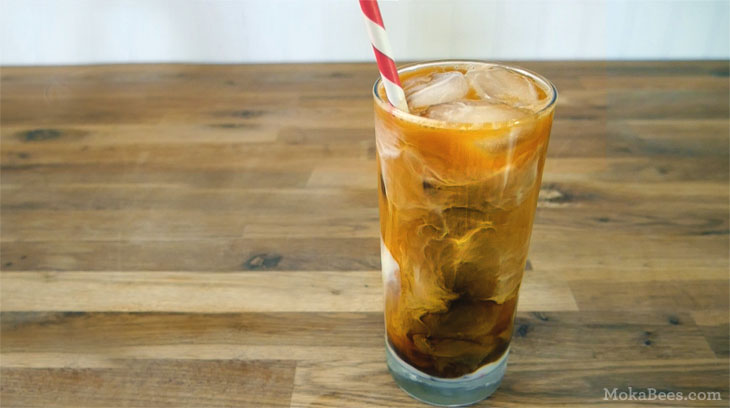 Learn how to make Thai iced tea with coffee to serve your family and friends a new refreshing drink at your next summer party. We're sure it's going to be the talk of the town!
14. Thai Iced Tea With Sweet Milk
https://www.instagram.com/p/Bj5lkyxHfKJ/?tagged=thaiicedtea
Want a refreshing drink and scrumptious dessert in one to satisfy your sweet tooth? Follow the simple recipe here from Food 52 to make one.
15. Thai Iced Tea Float
Make your Thai iced tea taste even better by turning it into an iced tea float. Get to concocting your own with this recipe from Honestly Yum.
Find out how to make Thai iced tea ice cream in this video tutorial from Pailin's Kitchen:
Aren't these recipes refreshing? They sure made me daydream of tropical vacations. Good thing you don't have to go halfway around the world to get a taste of these delicious drinks. Mix yourself some tasty Thai tea at home! You may also want to check out these herbal tea recipes for healthier alternatives.
Which of the Thai tea recipes are you going to try? We'd be delighted to hear all about it in your comments!
Up Next: How To Make Herbal Tea | Homesteading Tips
Follow us on Instagram, Twitter, Pinterest, and Facebook!
Editor's Note: This post was originally published on May 31, 2016, and has been updated for quality and relevancy.