Looking for some homemade pet food recipes? Look no further, because these vet-approved homemade dog treats are just what you need. Whip them up in the comfort of your kitchen because your pets love their treats homemade, too!
Homemade Pet Food Recipes for Healthier Pets
1. Homemade Cat Treats
I love cats because they are so independent, but that doesn't stop me from trying to take care of them! So if you have cats in your homestead, spoil them with these homemade cat treats I'm sure they'll find delectable. You know they also deserve some treats and pampering once in a while!
2. Frozen Coconut Oil and Blueberry Dog Treats
If you feel hot during the summer, so does your pup! Give them frozen dog treats! No need to share your delicious ice cream. Make him his own refreshing treats that aren't just plain ice cubes. It's a tasty way for your pup to cool off this summer!
3. Spinach, Carrot, And Zucchini Dog Treats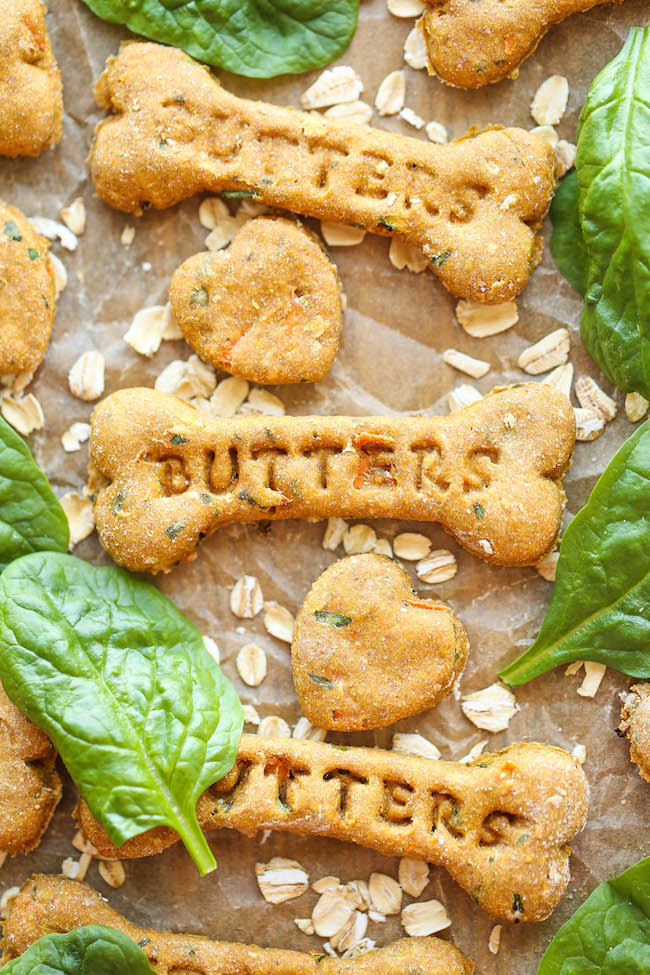 If you are particularly into homemade dry dog food, then you're on the right track. These spinach, carrot, and zucchini dog treats are very nutritious, canine-friendly, and so easy to make. It's a sure treat to delight your dogs, but watch out for the crumbs.
4. Easy Crockpot Dog Food
This easy crockpot dog food recipe can easily be made right in the slow cooker. Simply dump everything right in and your pup will get a 2-week food supply.
5. Banana Pup Pops
All you need to make these banana pup pops is a blender or mini food processor to mix up the ingredients. So whip out your blender and start making cool summer treats for your furry friends!
6. Apple And Peanut Butter Pupcakes
These apple and peanut butter pupcakes are a great homemade treat for your dog's birthday! It's a festive way to celebrate the day your pup became a part of your family.
7. Breath-Freshening Dog Treats
If you love making healthy treats for your fur babies, then you definitely have to make them these breath-freshening dog treats. Give them something special you yourself will be surprised by the result!
8. Double Banana Dog Treats
With only three ingredients, you can make a whole batch of these homemade treats for your dog best friends. Rightly so, because these treats will have them coming back for more. Always keep some on hand!
9. Fruit Leather For Dogs
You can have fruit leather for your dogs to snack on right along with you. Make sure to choose fruit safe for dogs to eat, like blueberries or strawberries.
10. Homemade Flea Prevention Dog Treats
If you love dogs but hate fleas, then this is the dog treat for you! Your dog will give you a big woof-woof for a thank you for these homemade flea prevention dog treats.
11. Homemade Peanut Butter Dog Treats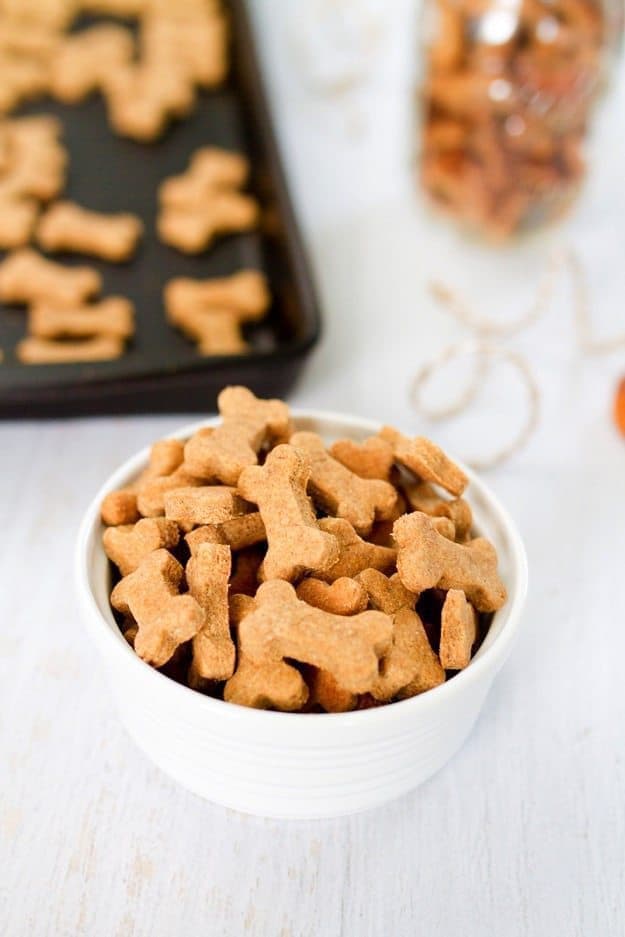 When your pup's crushing on peanuts, these easy recipes for homemade peanut butter dog treats will have them licking their chops. Pups will love the peanut butter flavor!
12. Peanut Butter Oatmeal Banana Dog Treats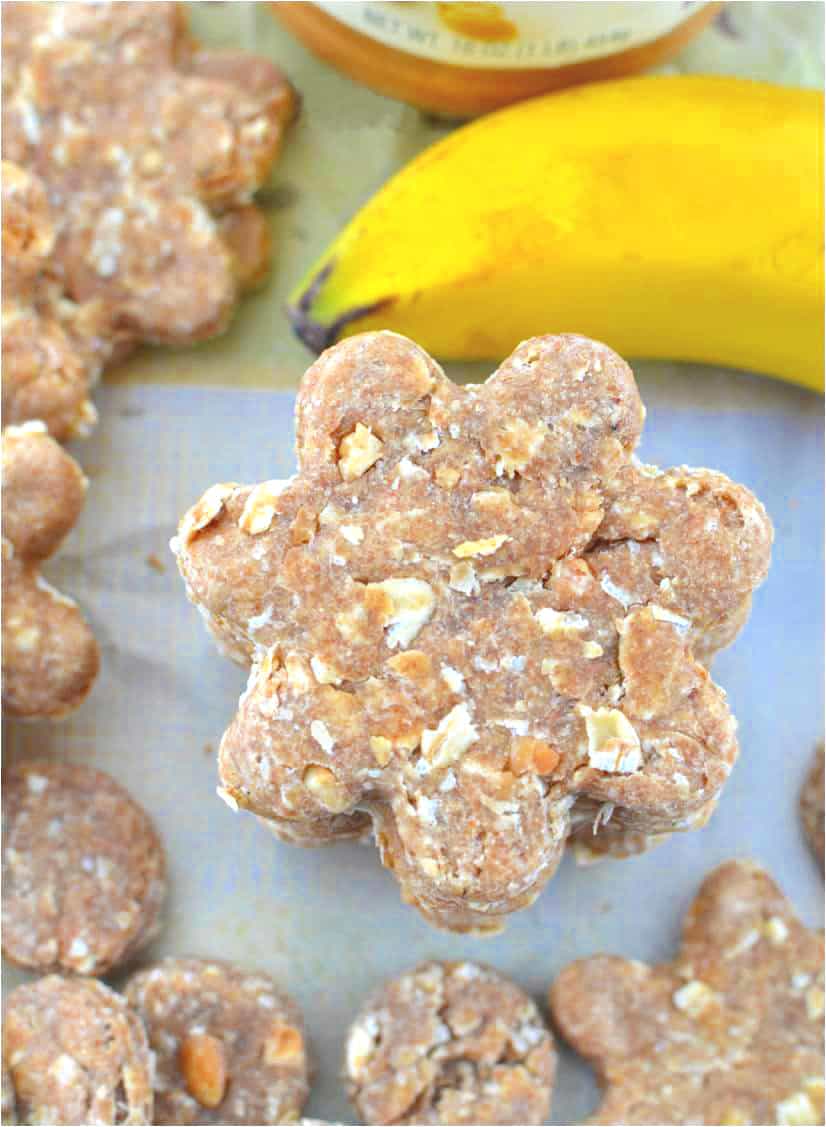 If you want your dog to be livelier than ever, these peanut butter oatmeal banana dog treats will definitely increase your dog's energy levels. Remember to use all-natural peanut butter and never sugar-free or lite peanut butter. These contain artificial sweeteners toxic to dogs.
13. Homemade Frozen Peanut Butter Banana Coconut Oil Dog Treats
These scrumptious treats are unbelievably easy to make, quick to freeze, and awesome for hot summer days! You won't believe you can make it with only a handful of ingredients readily available in your kitchen.
14. Chicken And Wild Rice Dog Biscuits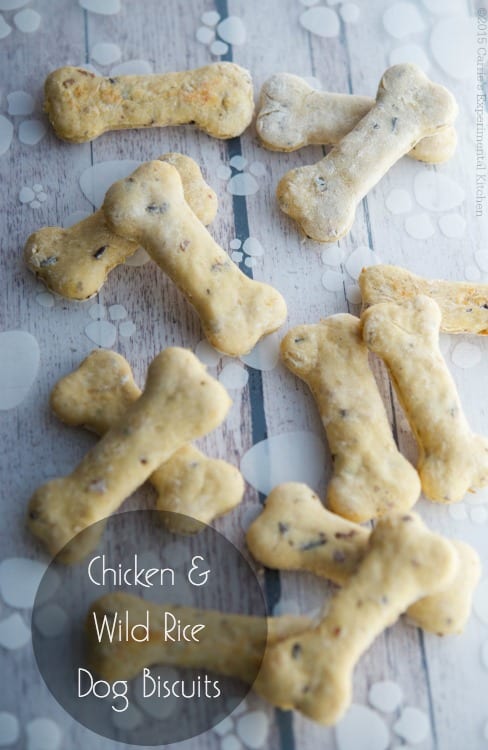 Treating our dogs as part of the family means giving them the best treats available–chicken and wild rice dog biscuits. Your furry friend will surely adore these biscuits.
15. Homemade Dog Food
If you're looking for a nutritionally-complete homemade dog food, this is it! This homemade dog food contains a good balance of essential nutrients with protein, carbs, and veggies.
16. Homemade Rabbit Treats
This homemade rabbit treat is so much healthier than treats sold in stores. If you are a true rabbit lover, I'm sure you wouldn't mind all the effort required in preparing this homemade treat. You may not like the green stuff but your furry pets will dig right into it!
17. Banana Oatmeal Carrot Granola – Homemade Rabbit Treat
This banana oatmeal carrot granola is made only with 4 ingredients, which we're pretty sure your furry rabbits will enjoy. You can use timothy hay if pandan leaf is not available–pretty sure your rabbits won't mind.
Want even more healthy homemade pet food recipes and treats? Check out this video and learn how to make a homemade doggie stew from TheHelpfuldad:
You can now skip the bags and boxes of store-bought treats. Whip up these healthy homemade pet food recipes for your precious ones instead. You know how cats and dogs are–they have an acute sense of smell and they'll know you are whipping up something only for them! They are also fiercely loyal and these treats will only reinforce it!
Which healthy homemade pet food recipes and treats are you going to try today? Let us know below in the comments section! 
Up Next: What Human Food is Good For Your Dog | Infographic
Follow us on Facebook, Instagram, Pinterest, and Twitter!
Editor's Note: This post was originally published on July 10, 2017, and has been updated for quality and relevancy.