Want to transform your outdoor space into an oasis? Here are few easy steps to spruce up your outdoor space into a perfect staycation spot.
Enhancing the space around your home is always a good idea. Transform your outdoor living area and achieve that inviting scene where you can entertain guests, or just have perfect place to peacefully relax.
Transforming Your Outdoor Space Into an Oasis [Infographic]
Home decking is the perfect place to begin as it's an instant way to characterize spaces in your garden and will create that contemporary feel for your home. Find the inspiration you need and steal some of these easy ideas to transform your outdoor space into an oasis. Kudos to the guys of 4everdeck who have come up with the impressive and helpful infographic below that will give you handy tips.
CLICK HERE TO ENLARGE!
Revive Your Outdoors To An Oasis
Just like those planned cozy rooms, wouldn't it be great to wake up to the even colors of your new deck boards.
Homeowners usually recoup a significant amount of the money they invest in decking.
Almost an average of 81% of the project's cost when they sell the home.
Reasons You Should Consider Decking
1. One of the primary reasons why you should consider adding a deck to your outdoors is primarily because of the stretch in the living area, at a minimal cost per square foot.
2. Great looking and is a functional adding, the thing about adding deck is that it is a low-risk addition.
3. Outdoor renovations often fetch good ROI (Return on Investment) because most homeowners want to have some sort of outdoor living space.
77% – 67 %
According to Cost vs Value report, you'll regain 77% of the cost of the wooden deck, while you'll get 67% of the value of composite deck.
Utilities
1. They are popular gathering spaces
2. You can have outdoor meals
3. Well, playing would never be same again
4. Some people like to build decks that have Jacuzzi tubs on them
Things To Consider
If you are interested in adding a deck as a way to increase the value of your home
Keep in mind the cost of the building and the amount you will recoup will vary somewhat depending on where you live.
Also, remember that making a huge investment in a deck won't pay off much when it comes time to sell.
Patio Or Deck?
1. Patio
Patio is an outdoor space placed directly on the ground. Patios usually have concrete bases made out of stone, tile and other materials.
Investment Returns
30-60%
If you want to integrate your landscaping into the overall design, patio would be the right choice.
2. Deck
Decks are made out of wood or vinyl and are not placed directly on the ground.
Investment Returns
75%
If you want the area to be a segregated small portion, you should consider decks.
Decks You Should Consider
Decks – Provides a vintage look with their breezy silver tones.
1. Charcoal Grey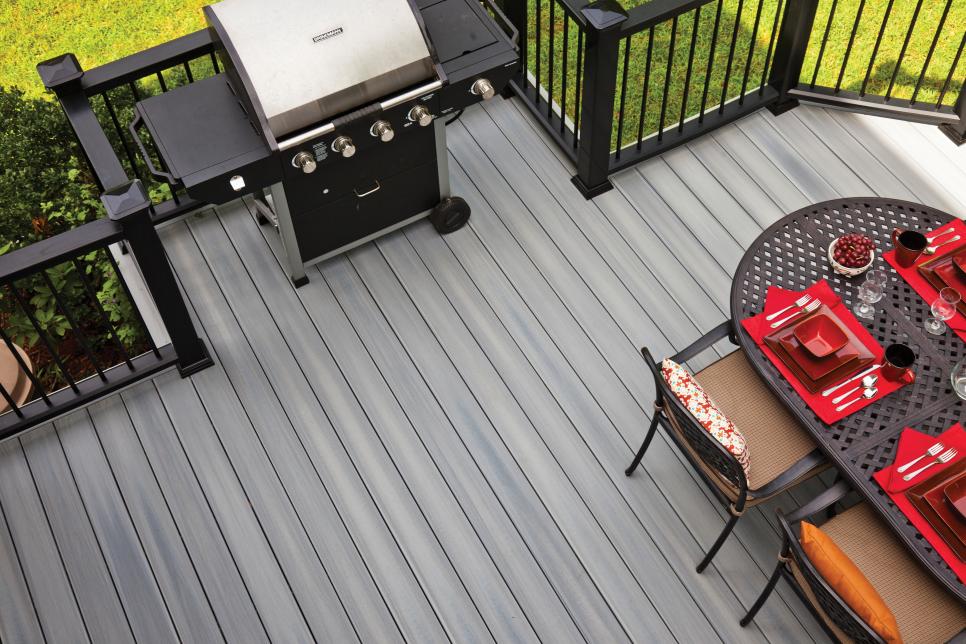 2. Oyster
3. Chocolate Brown
Features:
Double sided, Reversible
Brushed, anti-slip finish
Different pattern on both sides
Fascia Boards
image via Lowes
Fascia Boards are an excellent alternative to those obsolete timber boards that are easily susceptible to water damage.
Can be used for :
Garden gates
Plant boxes
Screens
Available in chocolate brown, oyster and cocoa brown to match your deck.
Deck Railings
|

Offers the beauty of wooden railings coupled with high durability and low maintenance.
Still wondering why you should consider decking? One last word!
Do you want the finish of wood sans the hard work? GO for decks. And simply install and enjoy!
---
Thanks for checking our Transforming Your Outdoor Space Into an Oasis post! Will you consider having a deck? Let us know in the comments below
Follow us on instagram, twitter, pinterest, and facebook!
Like this? Then, you'll LOVE!
How to Build a Log Cabin By Hand | Homesteading Ideas
Street Survival Skills: Surviving the Urban Jungle