We've rounded up some spooky Halloween dessert ideas you can try. From chocolates to a ghostly cake, you're sure to find a treat that looks too good to eat!
RELATED: Amazing Jack-O-Lantern Carving Ideas for YOU and the KIDS
Halloween Dessert Ideas to Sweeten Up the Season
1. Rice Krispie Treat Witch Hats
[instagram url=https://www.instagram.com/p/CGQnH-MC5FW/ hidecaption=true width=800]
Shape some rice Krispies to make this really cool witch hat. It's super easy and fun to do with the kids. Let them decorate and add the M&M candies to every witch hat.
2. Easy Halloween Spider Buttercream Cake
[instagram url=https://www.instagram.com/p/CGSb_9WKa1y/ hidecaption=true width=800]
Cakes aren't just for birthdays, they can also be for Halloween. To make this adorable Halloween dessert, you need to bake a soft yummy cake first. Then get your pastry bag and make those spiders crawl all over it!
3. Halloween Whoopie Pies
[instagram url=https://www.instagram.com/p/CGQ7d8nK0BI/ hidecaption=true width=800]
Make whoopie pies spooky by adding some eyeballs. It's not a major jump from the original recipe, but it's made a little more fun to match a spooktacular holiday feast.
4. 4-Ingredient Mini Bat Treats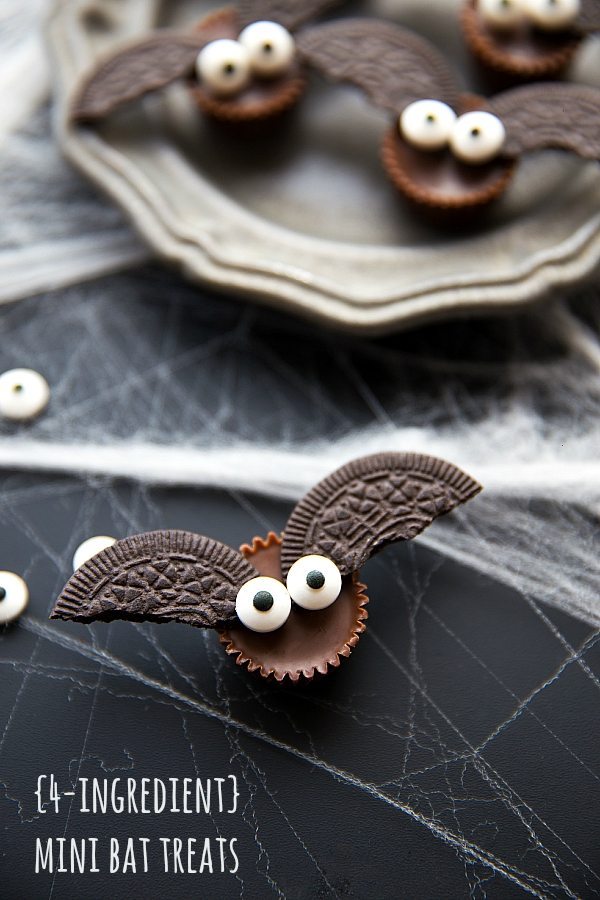 I'm not sure if it's spooky or cute, but I'm surely making these mini bats for Halloween. My two favorite treats combined into one—Reese's cups and Oreo chocolate sandwich cookies!
5. Mummy Pumpkin Pie Cookies
Pumpkin pie for Halloween? Yes, please! You'll find these pumpkin pie even more delightful since they look like mummies. These are cute Halloween treats you need to try.
6. Vampire Bat Marshmallow Pops
[instagram url=https://www.instagram.com/p/CGRJFybCDv-/ hidecaption=true width=800]
Everything seems so much better when eaten from a stick! Just like these vampire bat marshmallow pops. The best part? It will only take you a minute to make one.
7. Jack-O-Lantern Pumpkin Hand Pie
Here is another pumpkin Halloween desserts idea to add to your buffet. This time, Jack-O-Lantern mini pies! Shape them with a creepy face or shape them smiling–whichever you choose, it's going to be delicious.
8. Almond Meringue Ghost Cookies
Make something light and airy but still sweet and tasty. These almond meringue ghost cookies will be so much fun to make and eat this coming Halloween.
9. White Chocolate Mummy Pretzels
You'll just need three ingredients to make these deliciously creepy mummy pretzels—pretzel rods, white chocolate, and candy eyeballs! If you love white chocolate, then make these mummy pretzels your Halloween treats for the party.
10. Easy Ghost Cake
A Halloween cake that will stare at you all night long. This cake is simple and easy to put together, but is guaranteed to be a delicious treat during the Holiday season.
11. Walking-Dead-Inspired Cookies
Add your favorite TV series to the mix of your Halloween treats by making this Walking Dead-inspired dessert. It's an all-time favorite for fans of the show.
RELATED: 22 Thanksgiving Dessert Recipes | Decadent Cakes, Pies, And Pastries
12. Ghost Chocolate Cream Pie Bites
[instagram url=https://www.instagram.com/p/CGS3EvJKIg9/ hidecaption=true width=800]
Make an army of ghosts this Halloween with some chocolate, whipped cream, and Halloween-themed sprinkles. Don't forget the eyes and mouth to make these chocolate cream pie bites look like real ghosts!
13. Brain Cake
You don't have to be a zombie to eat "brains!" This brain cake is screaming Halloween! If you want to take desserts to another level this year then this Halloween dessert idea is the one for you.
14. Peanut Butter and Chocolate Eyeballs
[instagram url=https://www.instagram.com/p/CGTSphQi6MV/ hidecaption=true width=800]
Eyeballs have never been this sweet and delicious. Everyone's eyes will pop at the sight of these yummy peanut butter and chocolate eyeballs. You should give them a try!
15. Creepy Jell-O Cups
Are you looking for quick and easy Halloween recipes? Why not try these Jell-O cups this year? Your guests will love the sweetness with a touch of spookiness.
16. Spider Chocolate Chip Cookies
Would you eat cookies with spiders in them? I'm guessing not, but if they're chocolate chip spiders, I'm sure you'll change your mind. Transform a classic cookie into a fun and tasty Halloween dessert.
17. Cake Ball Brains
These brain cake balls are not the most appetizing looking, but with the sweet cherry blood filling, you'll agree they're one of the scariest yet yummiest desserts around.
18. Strawberry Ghosts
Who doesn't want a delightful dessert that can be nutritious at the same time? These strawberry ghosts are spooky, but still nutritious with every bite!
19. Witch's Brew Trifle
Don't be deceived by how this trifle looks like, this sure is delicious. Make this witch's brew trifle your inspiration this Halloween and recreate a crowd-pleasing dessert that is sure to impress.
20. Spooky Black Caramel Apple
A simple Halloween treats that's creepy in its simplicity. Don't be scared to take a bite. These spooky black caramel apples are not as sinister as they look!
21. Witch's Finger Cookies
Here's a great way to turn the tables on Hansel and Gretel's story. These finger cookies are so realistic and still interesting to eat. You can use other colors for the fingers if you like.
22. Cauldron of Sweet Popcorns
These popcorns are delightful. Prepare a cauldron and fill it with sweet snack perfect for a horror movie marathon.
23. Mini Bat Cookies
These bat-shaped cookies are too cute to eat. Complete the look with edible eyes and your kids will adore them.
Need more Halloween recipes? Try these Halloween treat and snack ideas from Craft Factory:
Whatever you choose, I'm sure your Halloween dessert ideas will be a hit. Not just for the kids, but for the kids at heart, too! Spooky doesn't always have to be gory; they can be sweet and yummy like everything on this list.
Which of these Halloween dessert ideas are you planning to recreate? Let us know in the comments section below!
Up Next: 
Fellow homesteaders, do you want to help others learn from your journey by becoming one of our original contributors? Write for us!
Follow us on Instagram, Twitter, Pinterest, and Facebook!
Editor's Note: This post was originally published on October 24, 2016, and has been updated for quality and relevance.