The turkey always gets all the glory on the Thanksgiving table (and rightfully so), but this year make your side dishes shine with these Thanksgiving recipes!  Whether you're cooking for picky eaters or easy pleasers, these Thanksgiving side dishes are sure to put smiles 'round the table and leave your guests happy and full. Try out these side dish recipes to compliment your turkey this year.
43 Best Thanksgiving Side Dishes
1. Roasted Sweet Potatoes & Figs
via Stetted.
2. Mushroom & Pecan Stuffing with Fresh Herbs
3. Buttery & Sweet Roasted Squash Mash
via Erren's Kitchen.
4. Brussels Sprouts with Cranberry & Balsamic Glaze
via Dora Daily.
5. Roasted Delicata Squash with Meyer Lemon Vinaigrette
via Feed Me Dearly.
6. Chili Lime Grilled Corn on the Cob
via The Endless Meal.
7. Grilled Curry Okra
via the Fitchen.
8. Crispy Parmesan Smashed Potatoes
via Diethood.
9. Dried Cranberry & Caraway Bread
via Kailley's Kitchen.
10. Cauliflower Mushroom "Risotto" with Parmesan & Truffle Oil
via The Simply Healthy Kitchen.
11. Dijon Maple Green Beans with Carmelized Pecans, Bacon & Feta
via Carlsbad Cravings.
12. Whipped Sweet Potato Casserole
via The Healthy Foodie.
13. Chorizo Stuffing with Ciabatta & Sweet Potatoes
via Cooking and Beer.
14. Gingered Pomegranate Lime Cranberry Sauce
via Lemon Tree Dwelling.
15. Garlic & Rosemary Pull-Apart Rolls with Asiago Cheese
via The Cozy Apron.
16. Oven Roasted Asparagus & Bell Pepper Salad
via The Healthy Foodie.
17. Corn and Bacon Casserole
via lilluna
18. Loaded Scalloped Sweet Potato Casserole
19. Spinach Spoonbread
via fiveandspice
20. Red Wine Braised Chestnuts and Pearl Onions
21. Stick of Butter Rice
21. The Best Green Bean Casserole
22. Stuffed Acorn Squash with Quinoa and Herbs
via acouplecooks
23. Pear Squash Purée with Pecans and Rosemary
via rawmazing
24. Butternut Potato Puffs
via bittersweetblog
25. Mashed Purple Sweet Potatoes
via spoonforkbacon
26. Parmesan Scalloped Potato Stacks
27. Crockpot Mashed Potatoes
via sweetcsdesigns
28. Hasselback Potatoes with Prosciutto and Sage
via handletheheat
29. Slow Cooker Stuffing Sausage Apple Stuffing
via number-2-pencil
30. Shredded Brussels Sprouts with Chorizo and Paprika
via heatherchristo
31. Double Pumpkin Cornbread Stuffing with Figs, Apple, Chrorizo and Almonds
via carascravings
32. Beer Cheese Corn Spoon Bread
via thebeeroness
33. Maple Roasted Endive
via inspiredtaste
34. Pumpkin Bread Rolls with Cinnamon Butter
via handletheheat
35. Sweet & Sour Pumpkin
36. Garlic Knots
via rasamalaysia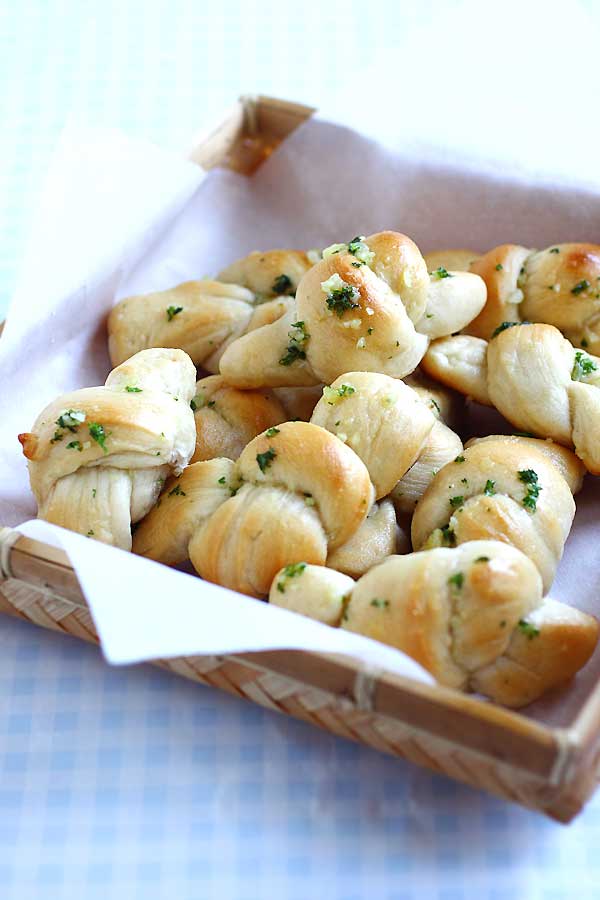 37. Garlic Sauteed Spinach
via kitchme
38. Rosemary Roasted Carrots
via ohmyveggies
39. Green Bean Casserole
40. Brown Sugar Butternut Squash
via chef-in-training
41. Cornbread Dressing with Fresh Herbs
via thegalleygourmet
42. Skillet Pumpkin Cornbread with Cinnamon Maple Butter
via hostthetoast
43. Green Beans with Pecans, Red Peppers and Onions
via iheartnaptime
That's all, fellow homesteaders! Did you enjoy our list of  Thanksgiving side dishes recipes? Let us know in the comments section below what you thought of our Thanksgiving side dishes list. Do you have a favorite Thanksgiving side dish recipe that's a staple on your homestead? Share it with us and we'll give it a shot. We love doing DIY homesteading projects and becoming more self-reliant by learning more about how everything works around the homestead. That's why Homesteading was created. We want all folks looking to lead a self-sufficient life, either on a homestead or in an urban environment, to come together and learn from each other! Of course, we welcome your help in creating a community of homesteaders.  Come and share your homesteading tips and ideas, recipes and expect the best advice on self-reliance and homesteading trials from our team of long-time homesteaders, self-reliant wilderness, and preparedness experts. Want to write for Homesteading? Shoot us an e mail and make sure to stay in touch on Facebook, Twitter, and Pinterest!
Do you have Instagram? Don't forget to join us @HomesteadingUSA.
Click here to Like Us on Facebook.
Click here to Follow Homesteading on Pinterest.
Originally posted on November 21, 2014 @ 6:44 AM
Comments
comments
Suggested Videos