Learn how to cook a turkey in the oven perfectly with this recipe. I promise it's easier than it looks!
RELATED: 13 Delicious and Healthy Ground Turkey Recipes
In this article:
How to Cook a Turkey Your Family Will Look Forward to!
Thanksgiving Turkey Recipe
It's impossible to think of fancy holiday meals shared with family and friends without thinking of a plump, large turkey at the center of the spread.
Many people have variations on how to cook a turkey properly and I will more than likely get a lot of grief for saying one way is better than another, but these are the tried and tested methods I use to cook a Thanksgiving turkey every year.
I know many recipes get handed down from one generation to the next, so I have just documented the process I have found to be the best way to cook a turkey.
This turkey recipe and methods featured in this post have been tried and tested by the original author via thekitchn.
Ingredients and Equipment:
1 turkey, any size
2 cups broth or water
Melted unsalted butter (optional, for basting)
Roasting pan
Roasting rack
Turkey baster or spoon
Instructions:
Step 1: Thaw Turkey
Let the turkey thaw completely before cooking. A frozen turkey will thaw approximately 24 hours for every five pounds. If you bought a turkey a few days ahead, you can thaw it in your fridge.
I recommend letting it thaw for an entire week in your fridge before you cook it.
Need to thaw in a hurry? Place the turkey in a cold water bath and change the water every 30 minutes until it's thawed.
But there is more than one way on how to thaw turkey quickly and safely.
Step 2: Brine Turkey
To brine a turkey means to immerse it in salt water solution for a day or so before cooking. The basic ratio of salt to water for a brine is four tablespoons of salt per 1 quart (four cups) of water (variety of herbs optional).
Place brine solution and thawed turkey (with innards removed) in a container large enough for both meat and water.
Make sure the whole turkey is completely submerged. Cover the container with a lid and refrigerate.
Learning how to brine a turkey does a lot to your Thanksgiving turkey. The end result of this process is moist, perfectly seasoned turkey meat.
This process is definitely worth going through.
Step 3: Prepare Turkey
Learn how to prepare a turkey for the oven if you want it juicy, moist, and flavorful. Take the turkey out of the fridge an hour before roasting it.
This will help the meat cook faster and more evenly. Since you brined the turkey, there is no need to rub any more salt into the skin.
However, cracked black pepper and other herbs and spices of your choice are welcomed at this stage. I like to rub a mixture of chopped sage and butter between the skin and meat on mine, but as long as you've brined it, there's no need for the additional flavors if that's not your preference.
When we think of #Thanksgiving, we think of pie 😍 Which one is your favorite? Comment below! https://t.co/DVnG5EHqu1 pic.twitter.com/c1K2MfGDNV

— Homesteading (@HomesteadingUSA) November 14, 2016
Step 4: Preheat Oven to 450°F
Place an oven rack in the bottom third and let the oven completely preheat before placing the turkey in the oven.
RELATED: Want to Deep Fry A Turkey? Here's How to Do It The Right Way
Step 5: Roast Turkey
|

Pour 2 cups of broth or plain water in a roasting pan. Put the turkey in the oven and lower the heat to 350°F.
When cooking a turkey, the rule of thumb is 13 minutes of cooking time for every pound of turkey meat. So if you have a 16-pound turkey, plan a 3 1/2 hours cook time.
There are factors that may contribute to much faster cooking so it is best to start checking the temperature of your turkey about halfway through the scheduled cooking time to gauge how fast it's cooking.
Step 6: Baste Turkey
Baste the turkey every 45 minutes. To do this, take the turkey out of the oven (make sure to close the oven door so the heat will stay) and baste the turkey all over with the liquids coming from the pan.
You can use a turkey baster or a spoon to drizzle the liquid all over the turkey.
Step 7: Check Temperature
To ensure the turkey is properly cooked through and through, check the temperature in three different places: the breast, the outer thigh, and the inside thigh. The temperature of the meat should be at least 165°F.
If any place is under that temperature, put the turkey back in the oven for another 20 minutes. Use a foil to shield the breast meat to keep it from overcooking.
Step 8: Let the Turkey Rest
Before removing the turkey from the oven, tilt it so the juices inside the cavity run out into the pan. Then, take the turkey out and transfer it to a cutting board.
Cover it with aluminum foil and let it rest for at least 30 minutes. This gives time for the meat to firm up and the juices to be re-absorbed, making the turkey easier to slice and taste juicier.
Step 9: Carve Your Turkey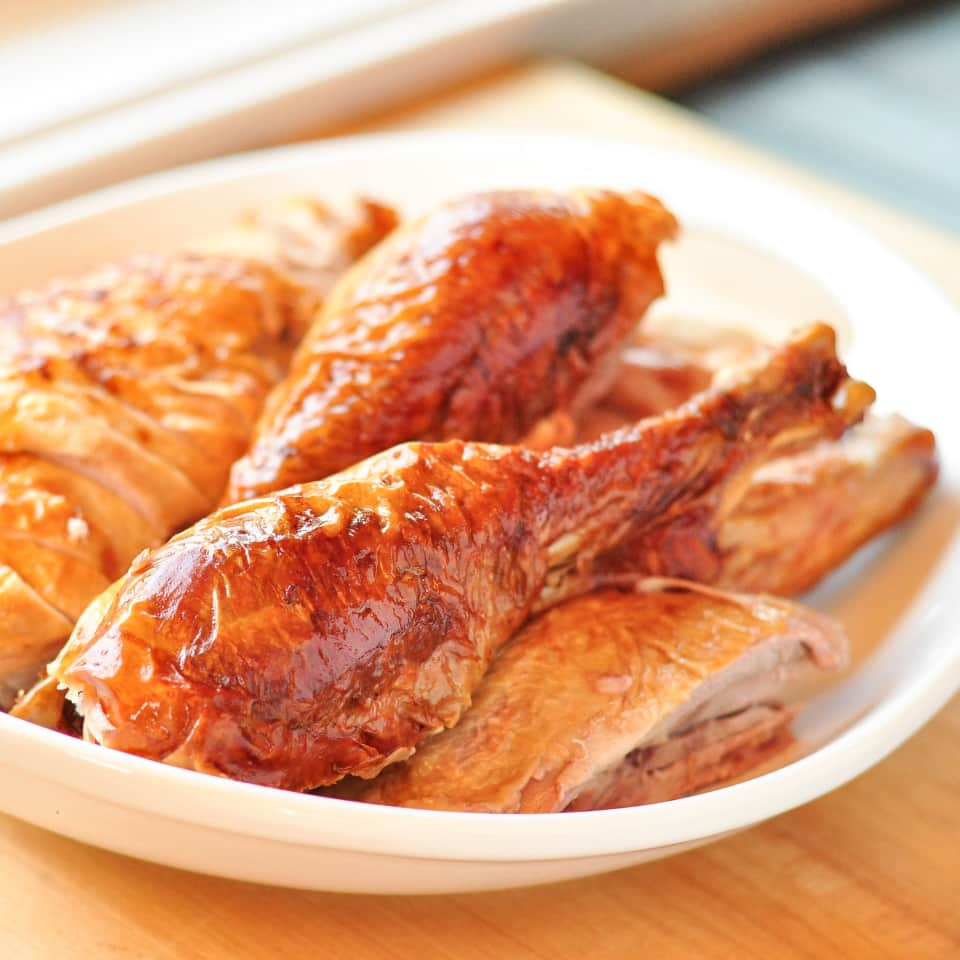 Remove the wings first, then the thighs, then the breast meat. Once you have all these parts removed, you can separate the thighs into thighs and drumsticks and carve the breast meat into individual slices.
Learn how to carve a turkey the right way in this guide.
Want to see the video on how to cook a turkey? Check out this how-to video from Kitchn:
There you go folks, my juicy-licious turkey perfect for Thanksgiving! I'm so excited about this tender and delicious roast turkey recipe and I'm sure you feel the same way when you try it.
The turkey breast is so flavorful with a crisp skin and a beautiful golden brown color. It is very pleasing to the eyes and everyone will surely savor it down to the last slice of meat.
It's simply a turkey roasted to perfection for the Thanksgiving feast. Now you know how to cook turkey meat tenderly with this delicious recipe.
I hope you have a fantastic Thanksgiving holiday!
Will you give this turkey recipe a try? Tell us if you've perfected the turkey in time for the holidays. We are excited to find out about it. Do share your experience with us in the comments section below!
UP NEXT:
Follow us on Facebook, Instagram, Pinterest, and Twitter!
Editor's Note: This post was originally published on November 17, 2016, and has been updated for quality and relevancy.