Want stunning garden markers but too frugal to spend a mint on them? Here's a list of charming ideas to get your creativity flowing!
16 Stunningly Beautiful Garden Markers For Your Garden
Don't you just love how garden markers can be both decorative and functional? I sure do, and I am beyond excited to have a homestead garden full of plants waiting to be labeled. I got so inspired with all the designs for beautiful and creative garden markers floating around, so I rounded up a batch of ideas that are extraordinarily eye-catching, but low-cost. So, let's get started.
1. Stunning Painted Alphabets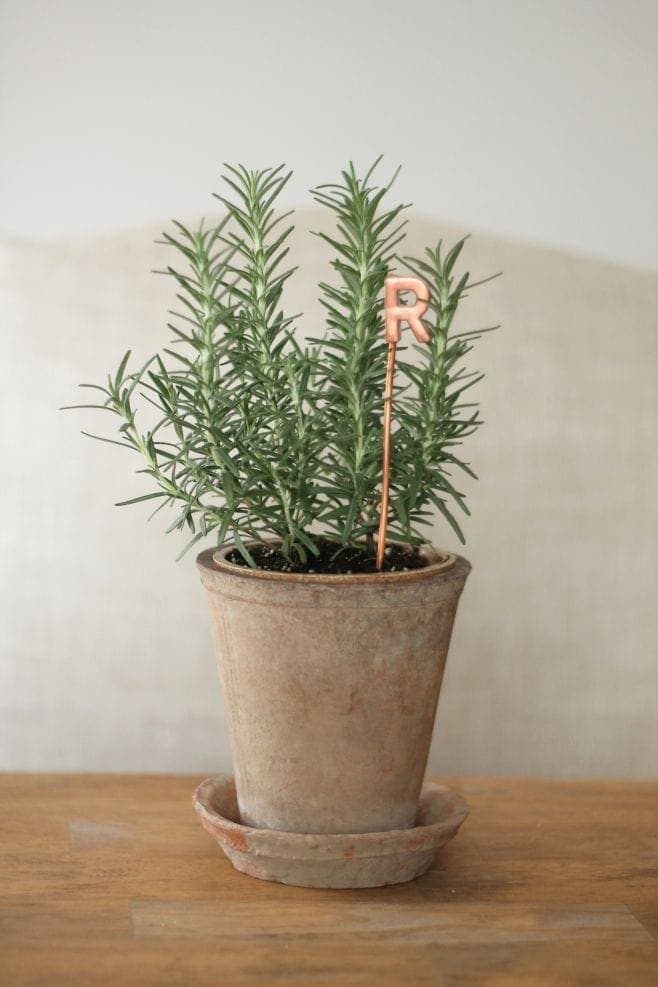 A beautifully painted letter can be put in a pot and kept as a plant marker. Making them is so much fun and the finished product makes your garden so pretty!
2. Wine Bottle Caps Garden Stakes
Don't throw out your wine bottle caps because they can be made into beautiful garden stakes. Simply cut them with a cutter and flatten them with a hammer. Create 2 holes in the middle and then insert a stick or pipe for support. Voila! You got yourself some garden stakes to label your plants.
3. Chalkboard Plant Markers From Old Gift Cards
Got some old business cards or gift cards lying around? If you have some, perfect! You simply need to spray them with chalkboard paint and once dry you can write whatever you want with a grease pencil, thus making versatile garden markers.
4. Wooden Spoon Garden Markers
Get creative with painting your old wooden spoons! Here's an idea: relate them to the different vegetables and herbs in your garden.
5. Aluminum Duct Tape Garden Markers
Easily achieve the garden of your dreams with the help of aluminum duct tape. Then, simply write the name of the vegetable, flower, shrub, or herb on the backside. To make it more special, go for embossed effect. Attach it to a plastic stick and enjoy how nice they look!
6. Wooden Garden Markers
Any wooden scraps will do for this wonderful DIY, but try to make them uniformly shaped like a pen. Simply attach cardboard or paper, then write the name of your garden plants. They will look wonderful lying on your pots or bushes.
7. DIY Metal Stamped Spoon Garden Markers
If you like the look of painted silver spoons, then write the names of your vegetables and herbs on them and stand them in your pots. You'll see your pot will look even more mesmerizing.
8. Keyboard Keys Garden Markers
Got a rejected keyboard in your store room? Time to give its key caps a new lease of life as garden markers. Simply remove the key caps from the board and attach them to some sticks, then arrange them in your pot and watch it transform into a lovely marker.
Try Your Hand At These DIY Tools You Can Use As Weapons https://t.co/ggUGrUbdON via @HomesteadingUSA

— Gomez Munoz (@Gomezy3k) March 23, 2017
9. Fork And Cork Plant Markers
With fork and cork, you'll have a rustic appeal for your plants. Write the name of your plants in the cork and spear it on the fork. Remember to decorate your fork before attaching your cork to make it even lovelier.
10. Pebbles Labels
You'll have unlimited possibilities with these pebbles labels. If you want to you can make use of some round over-sized stones and label them the names of your plants, then simply arrange them around your garden.
11. Picture In Bottles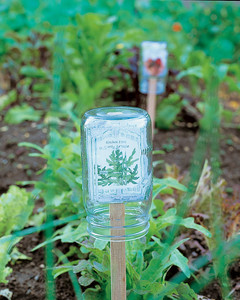 If you want to be unique, instead of writing down the name of your plants, print out a photo or illustration and put it into jars. This awesome picture in bottles idea will also protect your marker.
12. Wine Cork Plant Tag
From a discarded wine cork, you can have an adorable name tag for your garden plants. Just make sure it is securely attached to its stand.
13. Broken Pot Markers
Where do broken pots go? Definitely not to the trash, repurpose them into garden markers and use your creativity to transform the shards into works of art.
14. Tin Lids Jewelry For The Garden
Next time you open a tin can, save the lid because you can create a beautiful jewelry for the garden. With just a bit of imagination and a few supplies, you got it all covered.
15. Decoupage Your Pot
Use magazine pictures, paper, images from your seed packet, and contact adhesive to create a cheerful decoupage on your pot.  Another creative project that is sure to make your creativity flourish, or you can get your little ones involved too.
16. Twig Plant Markers
These easy-to-make twig plant markers are sure to add a rustic accent to any garden. Simply shave down a portion of the twigs with your potato peeler or knife to craft a flat surface, then use a permanent marker to write down the plant's name.
Still got time for one more garden marker idea? Check out this video from Life in Farmland:
That's all I have for you now, my fellow homesteader! These 16 beautiful garden markers are quite a few for you to choose from, but don't forget to always add your personal touch to make your garden even more beautiful!
Which garden marker will use in your garden? Let us know in the comments below.
Want another frugal project for your garden? Check out here 14 Pallet Projects For Your Garden This Spring!
Follow us on Facebook, Instagram, Pinterest, and Twitter!
Featured Image via DecorBold