Looking for ways to use a barrel around your homestead? If you've got some barrels lying around, here are a few DIY upcycling projects to inspire you.
21 Ways to Reuse A Wine Barrel On Your Homestead
Barrels are useful as it is but when you have more than what you need like I do, it gets a bit tricky storing them. They do tend to take up space so what do you do in those kinds of situations? Upcycle of course! If you want to use your barrels for your next DIY project, I've made this roundup I'm sure you'll love. From home decor to DIY furniture, you won't run out of things to do with those barrels you have lying around.
1. Wine Barrel Table
It can be as easy as adding a piece of wood on top of your barrel to this woodworking project you can make over the weekend. Take your pick!
2. Barrel Side Table
Add a rustic feel to your home or patio by cutting your barrel in half. Voila! Instant side table and you get two for the price of one. See it here.
3. Wedding Decor
Create a magical fairy tale kind of wedding with this DIY decor inspiration. See more photos here.
4. Barrel Garden
A lovely theme you can try on your garden. Instead of regular pots, use barrels instead. See it here.
5. Wine Barrel Outdoor Sink
This will look perfect on any homestead. Get the tutorial here.
6. Wine Barrel Composter
A composter with some class. I wouldn't mind my compost tumbler looking like that. Get the steps here.
7. Spilling Flowers Wine Barrel Idea
If you want to take your gardening to the next level with barrels, this is a must try!
8. Wine Barrel Furniture Set
Can you imagine lounging here? I can!
9. Barrel Bar
Have this for your home or make this an addition to your man cave.
Wine corks aren't just for wine bottles http://t.co/lWOKtZ5JSh #diyready pic.twitter.com/ZoiB6Qlb90

— DIY Ready (@DIYReady) July 24, 2015
10. DIY Whisky Fire Pit
With just a few supplies, you can make your very own DIY fire pit with a whisky barrel. See how here.
11. Barrel Pond
Want to have your own pond but don't have the space, this barrel pond will remedy that.
12. Barrel Decor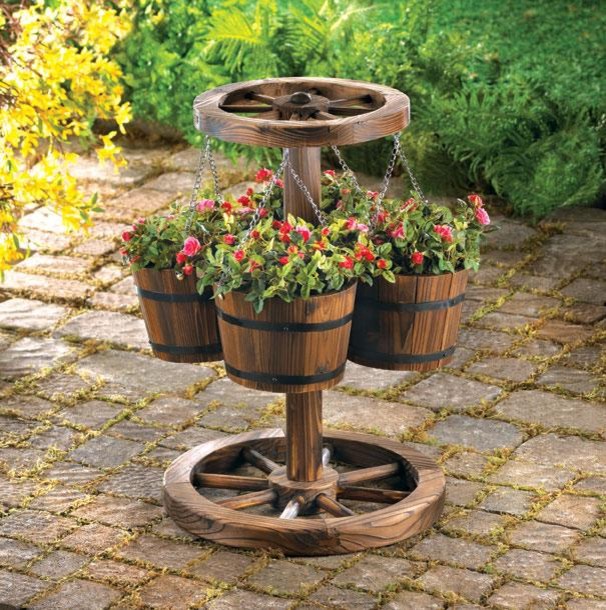 This will look perfect in your garden. See it here.
13. Barrel Ring Light Fixtures
Don't forget to do something amazing with the barrel rings, like a light fixture. Check it out here.
14. Eclectic Coffee Table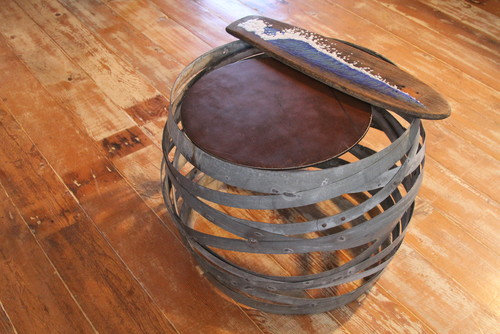 This coffee table will make a great conversation piece. See it here.
15. Wine Barrel Smoker
Have you ever thought of turning a wine barrel into a smoker? It's a great idea, you can even see the video tutorial here.
16. Wine Barrel Dog Bed
Give your pup some love by building him his own dog bed with a dog barrel. Get the instructions here.
17. Wine Barrel Cooler
This looks like an obvious craft project for a barrel right? This will be so cool!
18. Barrel Chair
Disassemble your barrel and turn it into a lovely DIY chair. Get the steps from the video.
19. Barrel Art
Add some much needed decor on your wall with this cool barrel art. Check it out here.
20. Radiant Clock
Know the time in a stylish way. Order yours here.
21. Make Wine With Your Wine Barrel!
Check out our wine making tutorial here.
Do you know more ways to use a barrel? Share your thoughts with us in the comments section below! 
Up Next: Wine Cork Crafts!
 
Follow us on Instagram, Twitter, Pinterest, and Facebook!
This post was originally published in April 2016 and has been updated for quality and relevancy.