These tower garden ideas will give your vertical spaces some beautifying revamp. You can grow vegetables, create a sustainable garden, and a breathtaking landscape. Check out the list to find the best tower garden for your homestead! We included a few which you can purchase so you can get your garden started right away.
Tower Garden Ideas You will Want for Your Homestead!
1. DIY Vertical Planter Herb Tower Garden
Talk about hitting two birds with one stone, this DIY vertical planter has both practical and aesthetic purposes. One: You can maximize space or make use of those idle vertical spaces in your garden. Two: Isn't this vertical tower pretty and fantastic?
You only need 5 clays pots each bigger than the other. Stack them up and grow herbs or flowers around the spaces provided for planting. You can make two of DIY tower garden, one for each side of the porch for added curb appeal!
2. DIY Flower Tower
The idea for this DIY flower tower is to make your flowers look like they're defying gravity. You can do that with a regular clay pot, flowers of your choice, and wire fencing. Bring on your creativity and get this project started you can complete in a day!
3. Pyramid Tower Garden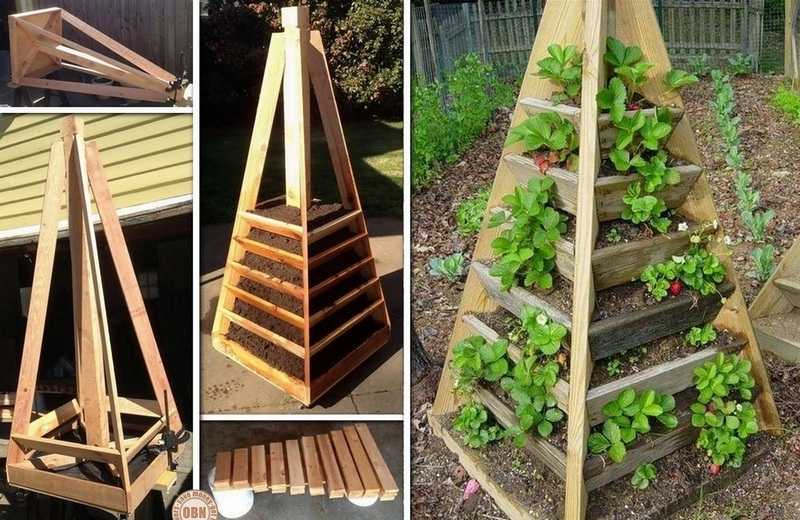 Build a wooden pyramid garden for an awesome angled finish. You will need to bring out your woodworking skills for this project. For a less costly or almost free pyramid tower garden, some wood pallets could come in handy.
4. Hooded Tower Garden With Grow Lights
This tower garden is an exceptional choice for those willing to spend some money on quality and efficiency on the homestead! The one pictured here is using special glow lights to aid the process. Buy Your Own Here
5. Strawberry Tower with Reservoir
Why buy dirty strawberries when you can grow them clean and fresh by building a DIY strawberry tower! The way these planters are stacked allows for optimal watering. You don't only get fresh and juicy strawberries, this strawberry tower will also boost your garden landscape.
6. The Juice Plus Tower Garden
This tower garden is an all-in-one system ideal for growing everything you need in one unique compact space. It's kind of amazing, you should read more about it and buy your own here! 🙂
7. Mini Aquaponics Tower Garden
This mini aquaponics tower garden is described as a mini fish and plant farm for your living room! It's such a fantastic idea for an indoor tower garden working on the principles of aquaponics.
8. Stacked Square Foot Garden
Square foot gardening is a great way to keep your plants organized and to save on space. Check out this square foot tower, and learn more about square foot gardening here.
9. DIY Stacked Tower Pot Garden
This topsy-turvy flower pot vertical garden is cute as well as functional! It looks like a work of art in itself that will compliment any flower garden. Understand how this gravity-defying tower garden works here.
10. Pallet Potato Tower
This pallet potato tower is pretty much straightforward. You only have to look at it and you'll know what to do. Look for food grade pallets which are safe to use for organic gardening. Follow the whole procedure here to grow potatoes the foolproof way all year round.
11. Potato Tower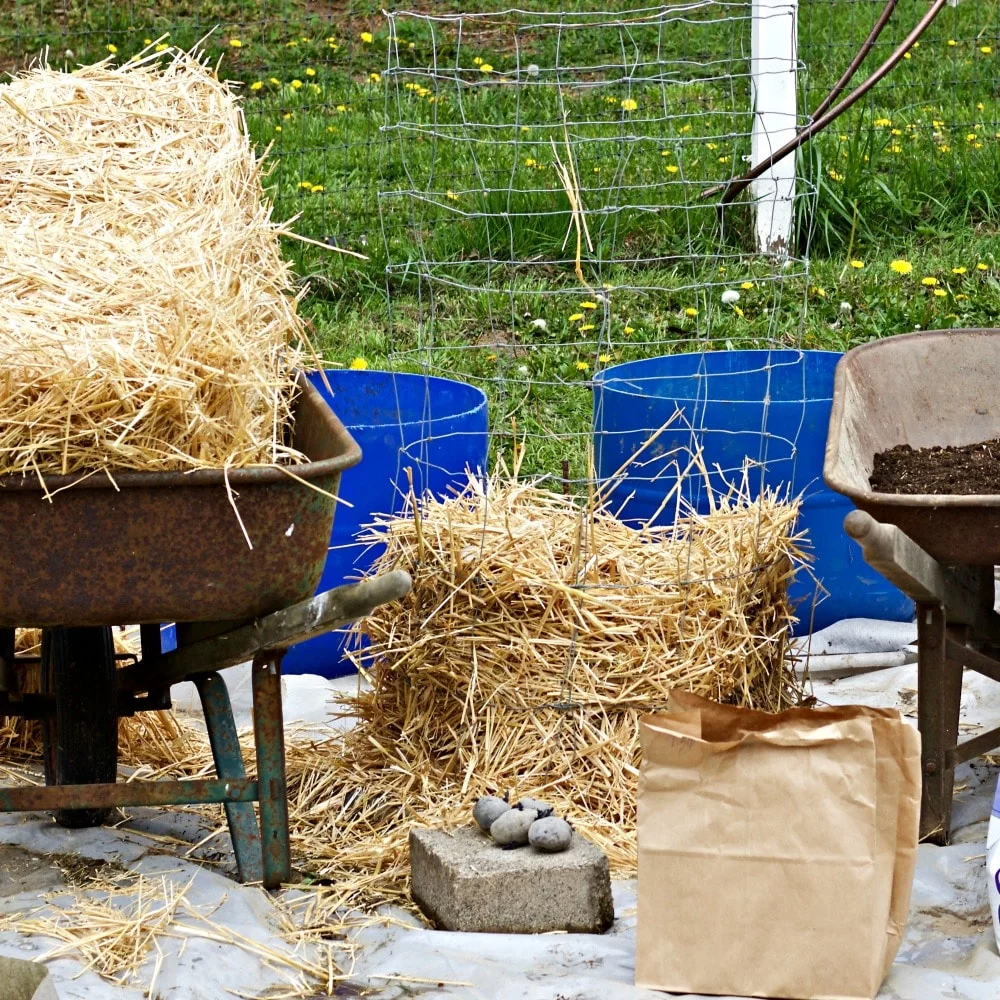 This gardening method is said to be the most foolproof way of planting potatoes. You get to grow more potatoes in a limited space and the harvest is the easiest. Build a potato tower with chicken wire and straws in this tutorial.
12. DIY Onion Tower Garden
Onions are definitely a staple ingredient you cannot do without in your kitchen. Grow onions vertically (and easily too in your windowsill) for a year-round supply with onion towers. This gardening venture is pretty fantastic that you can recycle plastic bottles to make onion towers.
13. DIY Composting Garden Tower
As a homesteader, you will adore this gardening innovation on a tower planter which also works as a Composter. It's a great way to get rid of some your kitchen scraps.
Order your own here:

14. Bean Pole Teepee
This teepee tower garden idea is a great project for your garden and for the family. It can serve both as a playhouse and once the kids are done with it, you can start growing climbing flowers or vegetables in it.
15. Primitive Tipsy Pot Planter
This teetering tower garden follows the concept of the topsy-turvy planters which is a cute addition to any garden. Make use of your old galvanized containers and transform them into rustic planters in this tipsy pots tower.
16. DIY Vertical Garden Tower
You can build a wall of succulents for greenery all around! You can also grow lightweight plants like arugula, herbs, and strawberries in this tower garden design.
17. DIY Vertical PVC Planter
PVC pipes are relatively cost-effective and are reliable for many uses around the homestead, including gardening. There are different designs for PVC tower gardens and these designs come with materials you will need for your tower garden project.
18. PVC Strawberry Tower Garden
This tower makes growing and picking berries a cinch! Follow the step-by-step tutorial to make these vertical strawberry tube planters.
19. DIY Aeroponic Tower Garden
The tower gardening method couldn't be any perfect for aeroponics gardening. The previous allows suspending the roots of plants and receive nutrients through a fine mist.
20. Flower Towers by Glacier Garden Rainforest Adventure
This one is gorgeous. Think outside the box and plant flowers where you'd least expect it!
21. DIY Tower Garden from Old Tires
There are dozens of ideas for old tires in the garden from planters to furniture. Make room for one more and build your own tower garden from tires with this nifty design.
22. Spiral Tower Garden
This spiral garden would be helpful for reaching different plants at different heights! It also makes for an efficient watering system where you only have to water the top. This will allow for water distribution, and nutrients from the soil will not be washed out.
23. DIY Soda Bottles Tower Garden
Make your own vertical tower garden out of soda bottles. Nothing can get more sustainable than when you can help clean up and grow your own food at the same time.
24. Easy Tripod Trellis
Build a tripod trellis and encourage vines to grow upward. You can also hang plants from the top. Get the whole idea in this DIY tutorial for a tripod trellis.
25. DIY Garden Obelisk
Make a trellis that is four-dimensional, a la obelisks of Egypt and Washington. You can grow trailing or climbing plants along each side for a better coverage. You may even grow climbing veggies, too.
26. Bok Tower Garden
No tower garden list is complete without the Bok Tower Garden! A must-see triumph of nature and bird sanctuary set in central Florida.
27. Garden Tower from a Barrel
This tower garden concept follows the design of the garden tower with a composter. The latter is somewhat pricey but luckily we have this DIY garden tower made from a barrel which works just fine.
Learn how to grow huge produce fast with a tower garden in this video from Chris Beat Cancer:
I love the idea of vertical gardens because they provide more spaces for plants to grow. Plus, they are nice to look at. Try your hand at these tower gardens you can make yourself for the ol' homestead. Grow your own, and enjoy the convenience of having all the plants you want (or need) in a confined vertical space!
Let me know what you think, or how your own process of vertical gardening is going in the comments section below!
Up Next: 23 Budget-Friendly Garden Shed Ideas Worth Every Dollar
Follow us on Instagram, Twitter, Pinterest, and Facebook!
Editor's Note: This post was originally published on March 19, 2017, and has been updated for quality and relevancy.