Want to know what vertical farming is? How vertical farming helps you and the community? Read on and be inspired to get started with vertical farming.
Vertical Farming For Compact Spaces | Types of Farming
What is Vertical Farming?
"Vertical Farming is a revolutionary method of producing large quantities of healthy and quality fresh foods without being reliant on skilled labor, soil richness, a large amount of water usage or a suitable weather".
Read this "Save Space By Going Vertical With Your Vegetables" and learn more.
A special thanks to visualcapitalist.com for the amazing infographic below:
Futurism The Rise of Vertical Farm
From a classroom idea to a commercially viable technology, vertical farming promises a green revolution designed for the future. Here's what you need to know.
Anatomy Of A Vertical Farm
Hydroponics
Aquaponics & Aquaculture
Restaurant
Grocery
Shipping Bay
Biodigesters
Urban Wastewater Reclamation
Advantages Of Vertical Farming
A 30-story vertical farm needs 26 million kWh of electricity, but it can generate 56 million kWh through solar energy and the use of biogas digesters.
Efficient Use Of Urban Space
Crops can be stacked as high as the building is built.
Hydroponics uses 70% less water than traditional agriculture practices. Urban waste like black water can be recycled and used for indoor farming.
One acre in an indoor vertical farm can produce the same yield as 4 to 6 outdoor acres, depending on the crop. And there's no running out of arable land.
Year-Round Crop Production
There would be no more "seasonal crops" as vertical farming technology ensures continuous crop production even in non-tropical regions.
Crops are grown in a controlled environment and are therefore not exposed to extreme weather events like droughts and floods.
Indoor growing conditions in vertical farms reduce or eliminate the use of chemical pesticides.
Best Crops For Vertical Farming
Fast-turn crops are recommended for most commercial vertical farms. A 'turn' is the time it takes to turn a seedling into a product that's ready to go to market.
Notable Vertical Farms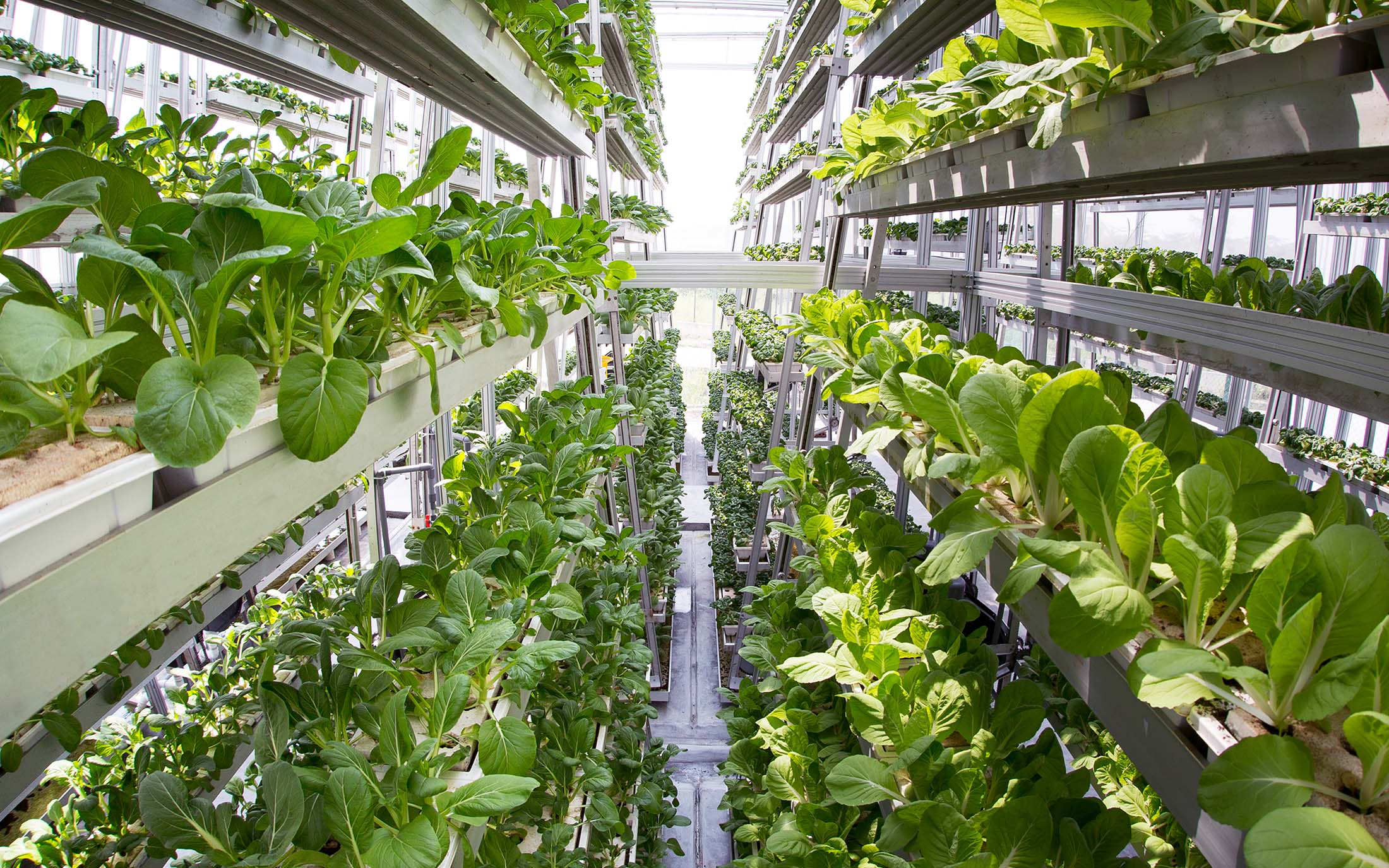 Sky Greens was the worlds' first commercial vertical farm. Plants are grown on nine-meter-tall, A-shaped towers, each hosting 38 tiers of troughs. Troughs rotate around the aluminum towers to ensure uniform distribution of sunlight, proper air circulation, and irrigation.
At Farmedhere, tilapia are cultivated in aquaponic tanks where nutrient-rich fish effluents are circulated among the plant beds. Plants absorb the nutrients and clean the water, which is then circulated back to fish tanks to keep tilapia flourishing. It was the first organic vertical indoor farm to be certified by the USDA.
Mirai Corp, a 25,000 square foot facility, is currently world's largest indoor farm. The facility uses 40% less power, 80% less food waste, and 99% less water than outdoor fields. It is also 100x more productive than outdoor fields, producing 10,000 lettuce heads per day.
When New Jersey's Aerofarms facility becomes fully operational, it will be the world's largest vertical farm. The 70,000 square foot compound will produce 2 million pounds of food per year, with the capability to grow more than 250 varieties of leafy greens and herbs.
Want to find out more about vertical farming? Let's watch this video from The Good Stuff
Ready to get started with Vertical Farming? Check this out "Starting a Vertical Garden" and learn how.
Thanks for checking our Vertical Farming For Compact Spaces | Types of Farming post! Are you going to try vertical farming? Let us know in the comments section below.
Follow us on instagram, twitter, pinterest, and facebook!
Like this? I'm sure you'll LOVE:
Vertical and Container Gardening: Charts and Images
Modular Garden Systems For Tiny Homes & Apartments
Container Gardening: The Pros and Cons Of Growing Vegetables On Your Deck