Want to make your family's Thanksgiving breakfast extra special? Well, I've got 21 mouthwatering homemade pancakes recipes you can try.
From your standard butter-and-syrup combo to the lusciously sticky-sweet gourmet toppings, there's no doubt that any kind of pancake will always be the most loved breakfast of all time. They simply brighten up everybody's morning! If you still haven't nailed your own go-to recipe for nutritious homemade pancakes, worry not, because this list of homemade pancake recipe will lead you in the right direction.
Family Thanksgiving Breakfast = Homemade Pancakes | 21 Mouthwatering Pancake Recipes
How many times have you heard that breakfast is the most important meal of the day? That's even truer during the holiday season–with the days packed with family activities, you really need to start the day right. Breakfast helps us gets our metabolism going, gives us energy, and helps us make the right food choices throughout the day. So, to make everyone in the house start their day on the right foot, make a stack of pancakes and start their busy days on a high note. To help you achieve that, I have compiled 21 homemade pancake recipes for you, so you're sure to find one that fits your family's taste buds. Already had breakfast? Well, these pancakes will be welcome any time of the day you serve them!
Want to have a Japanese style breakfast? Then, make your family's breakfast more interesting in this thick and fluffy Japanese-style pancakes.
2. Whole-Grain Buttermilk Pancakes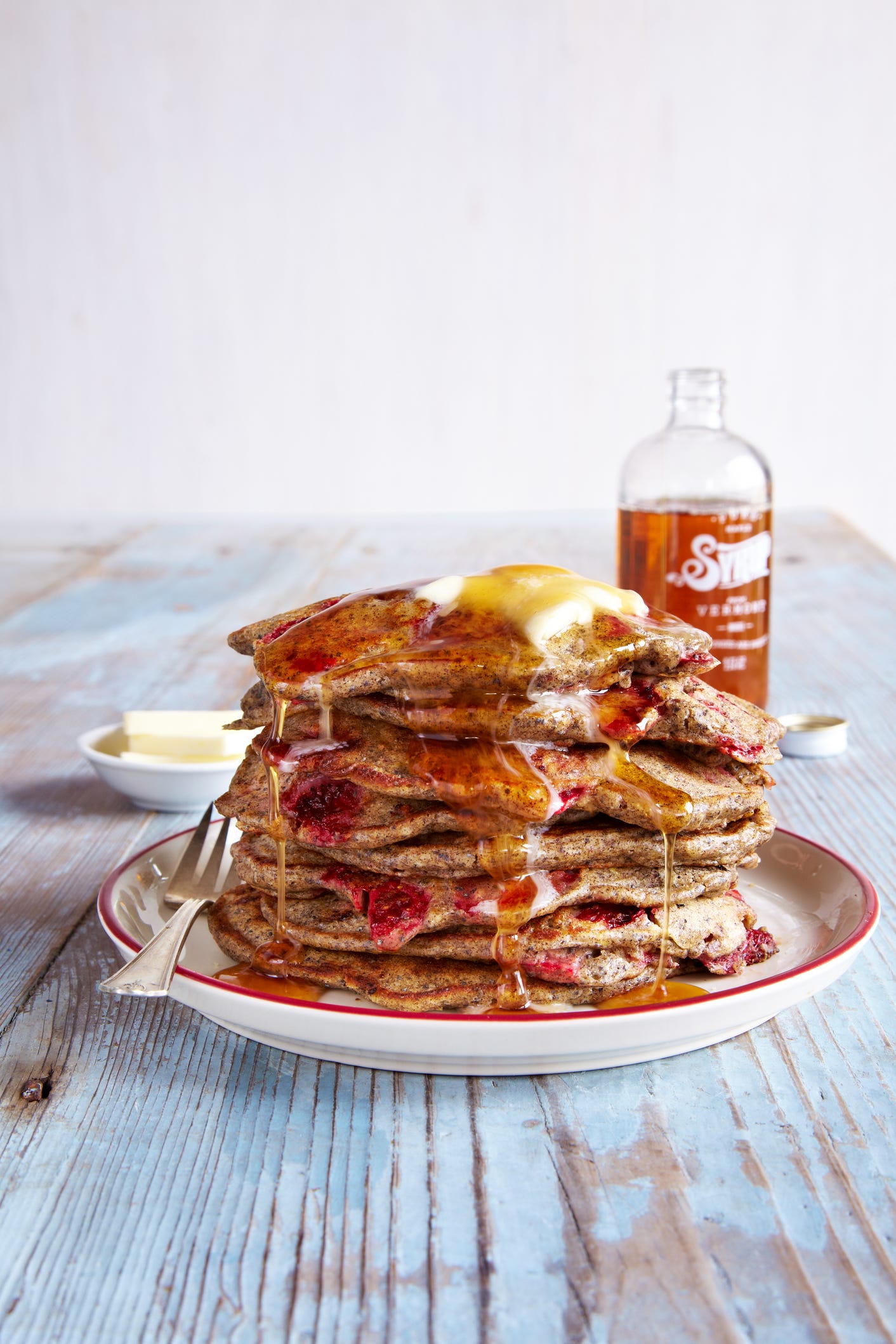 If you're looking for a great basic recipe that's hearty and foolproof, this whole-grain buttermilk pancakes is tastefully perfect for you.
3. Five-Ingredient Pumpkin Protein Pancakes
Fall is here and pumpkin is in! Made with pumpkin puree, eggs, pumpkin pie spice, baking powder, and vanilla, with these five-ingredient pumpkin protein pancakes you're one flip away from the healthiest breakfast yet.
4. Ricotta, Parmesan, and Chive Pancakes with Jalapeño-Quince Jam
We've already come to love pancakes as a savory meal too, and this ricotta, parmesan, and chive pancakes with jalapeño-quince jam just reaffirms that.
5. Lemon Blueberry High-Protein Pancakes
If you think it is impossible to upgrade your traditional blueberry pancakes, well, you're wrong. Believe it or not but these lemon blueberry high-protein pancakes is the best snack after your workout. Why? This recipe has generous loads of protein from cottage cheese, vanilla powder, and egg whites.
6. Healthy S'more Pancakes
With egg whites and a scoop of vanilla protein powder, these healthy s'more pancakes give its name that rare meaning. A healthy pancake recipe that is sure to provide you the energy you needed for the Thanksgiving activities.
7. Healthy (Vegan) Tiramisu Protein Pancakes
Just from the looks of it, both vegans and non-vegans alike are sure to fall in love with these healthy (Vegan) tiramisu protein pancakes and head to the grocery to buy all the ingredients to make them, asap! Though, there are few ingredients are a challenge to source, but feel free to improvise. If the mocha protein powder is not readily available, for instance, you can simply use chocolate.
Crockpot recipes that will keep your homestead warm this fall ???? https://t.co/EG9ENHBnXD pic.twitter.com/TCHfqSpt5i

— Homesteading (@HomesteadingUSA) October 6, 2016
8. Cheesy Leftover Mashed Potato Pancakes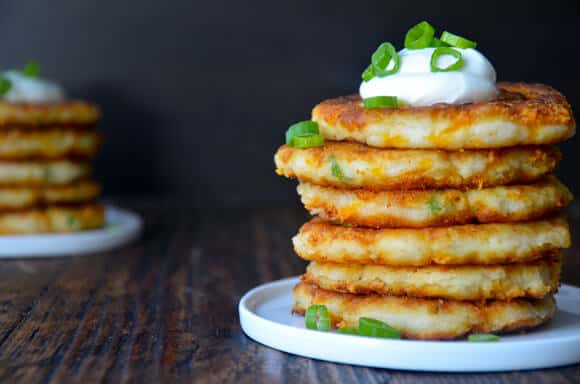 What a delicious way not to waste your leftovers! Talk about being clever in the kitchen. This quick and easy homemade cheesy leftover mashed potato pancakes will give your family their best day ever.
9. Coconut Oat Pancakes
How can anyone go wrong with shredded coconut, coconut oil, and coconut milk? This homemade coconut oat pancakes will give the entire family a breakfast treat in paradise.
10. Strawberry Greek Yogurt Pancakes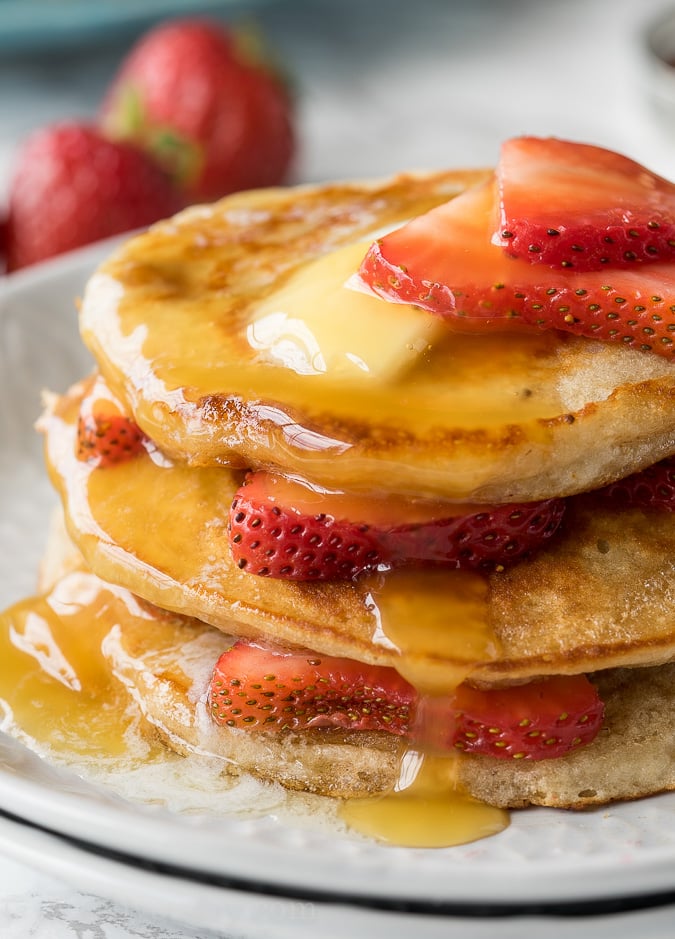 No time for breakfast? Well, that's no longer an excuse with these glorious homemade strawberry greek yogurt pancakes, since they only take 15 minutes to make.
11. Apple Cider Pancakes
Is a cool and crisp fall weekend breakfast your thing? Then these sweet and fluffy apple cider pancakes are a must try this harvest season.
12. Apple Walnut Buckwheat Pancakes
These apple walnut buckwheat pancakes are top with extra special toppings, cinnamon, apples, and walnuts. It will remind you the "FALLNESS" of the harvest season.
13. Pancake Breakfast Sandwich with Sausage and Avocado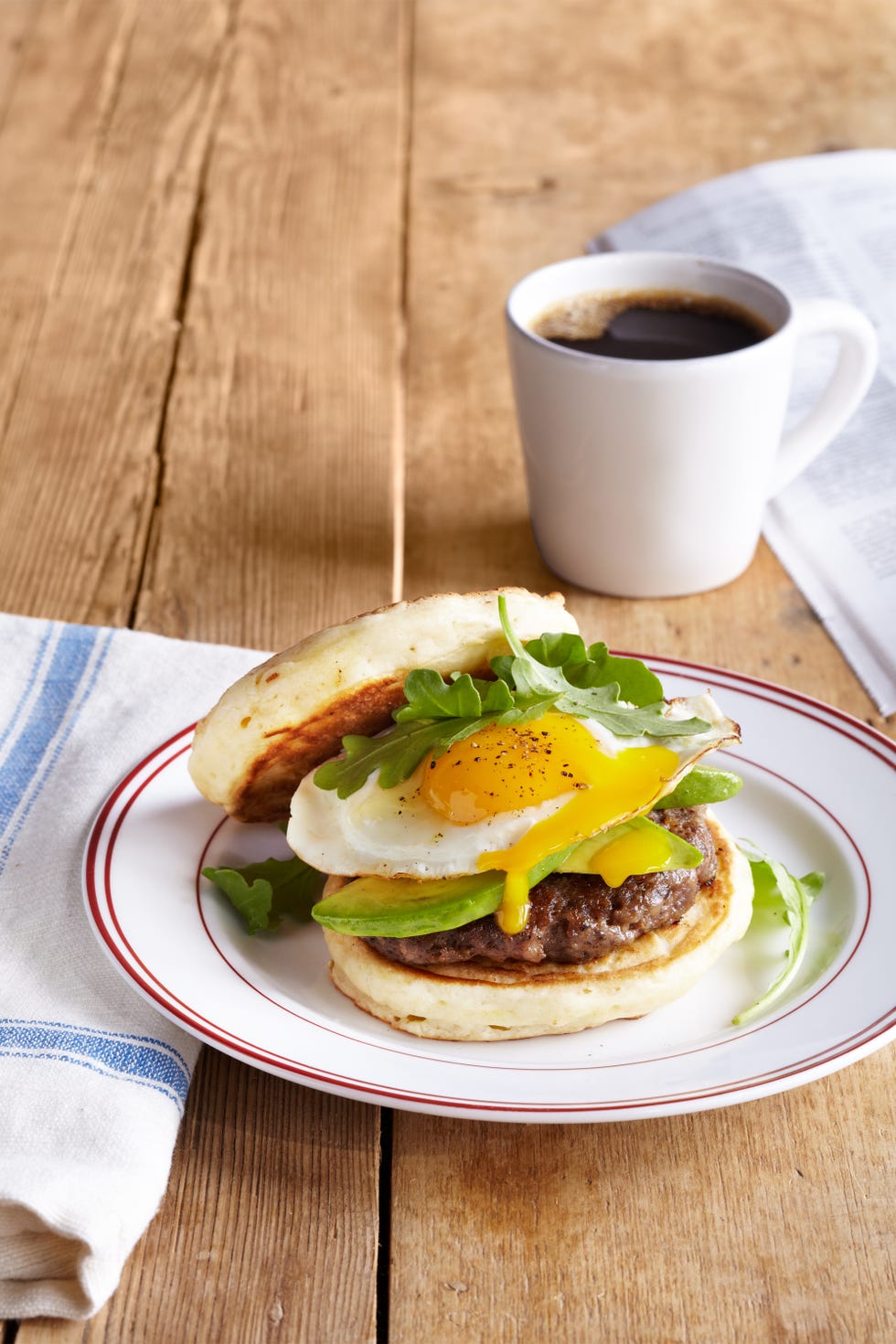 Have you ever tried making a pancake sandwich? This is sure to take your breakfast to the next level. Plus a healthy dose from avocado, hmmm, YUM!
14. Lemon Chia Seed Protein Pancakes
These lemon chia seed protein pancakes are a refreshing take on your diner classic. Made with vanilla protein powder, chia seeds, banana, egg whites, lemon, and a couple of baking ingredients, this seems like one loaded pancake. I have a feeling this recipe will make you feel like you've indulged without going overboard.
15. S'mores Pancakes
Can you imagine anything better than waking up to a huge batch of these s'mores pancakes? Give your family a treat one morning by putting these on the breakfast table.
16. Strawberry Sprinkle Funfetti Pancakes
Look how bright and happy this looks! Strawberries + sprinkles + pancakes = your best Thanksgiving breakfast combination ever.
17. Red Velvet Pancakes with Cream Cheese Glaze
These red velvet pancakes with cream cheese glaze are such a beauty. A perfect recipe choice for an elegant Thanksgiving breakfast! The cream cheese glaze adds delicious touch to these scrumptious pancakes.
Do you have an apple tree? Whip up some spiced apple pie waffles ???? pic.twitter.com/YzS0G1QuQF

— Homesteading (@HomesteadingUSA) October 3, 2016
18. Peanut Butter Cup Pancakes
Another quick and easy delicious pancake recipe you can make in just 20 minutes. These peanut butter cup pancakes are vegan, gluten-free, and packed with peanut butter goodness, so you don't have an excuse not to try it.
19. Strawberry Lemon Poppyseed Pancakes
If you love the citrusy tangy flavor of lemon, then you must try these strawberry lemon poppyseed pancakes and ensure you don't miss a thing this holiday season.
20. Cinnamon Roll Pancakes
These cinnamon roll pancakes will give you two breakfast favorites in one dish, that's sugar and spice swirl. It will leave you nothing to ask for your Thanksgiving breakfast.
21. Oreo Cookie Pancakes
This is sinfully delicious! These oreo cookie pancakes will give your Thanksgiving breakfast a rich twist. It will let you mimic your childhood's favorite perfectly, but completely vegan, easy to make and superbly delicious.
Want to see how to make pancakes from scratch? Well, check out this video from WaysAndHow:
Are you now ready to serve the best Thanksgiving breakfast for your family? Wake your family up with the creamy and rich flavor of these mouthwatering pancake recipes to ensure they will have the energy to face the Thanksgiving festivities.
Did you enjoy my homemade breakfast recipe post? Which one will you try first? Let me know in the comments below.
Want more breakfast recipes? Check out our post on 25 Sweet Potato Recipes You'll Crave Before and After Thanksgiving