These goat milk recipe ideas will have you eating like Kings! The best part is, if you raise goats you may never have to go to the market for any milk, yogurt, cheese, or anything cream-based ever again. Keep reading for recipes to make from goat milk.
20 Recipes To Make From Goat's Milk
Raising goats has truly proven to be rewarding. Not only are they good for meat and profit, but they give me an abundant supply of goat milk, sometimes more than what I know what do with. I've made soaps, cheese and many other things with their milk and now, I want to share them with you.
If you're also raising goats and would like some goat milk based recipes and products to make on your homestead, then read on! We've included food recipes and household products.
Goat milk soap is soft and creamy. You can make it yourself with a basic soap formula. You'll love these varieties.
Farmer's cheese, queso blanco, or feta cheese. Try your skills at making any of them. Get the recipes here.
Try this cajeta recipe, it's a mexican caramel sauce that's sweet and creamy, and you'll want to put it on everything. See how here.
4. Goat Cheese Stuffed Mushrooms
Make this healthy appetizer that's as fun to east as it is to make. Get the whole recipe at Girl Gone Gourmet.
5. Goat Milk Lotion
Did you know that it doesn't only make a great soap, it also makes an amazing lotion. Check it out here.
6. Make this Roasted Cauliflower Quinoa Dish
7. Goat Milk Butter
Did you know that you can turn goat milk not only into cheese but into butter as well? Get the recipe here.
8. Goat Milk Ice Cream
Ever tried making ice cream with a goat milk base? Now you can. See how here.
|

After you've made your goat cheese, try these delicious recipes next.
10. Great Tasting Goat's Milk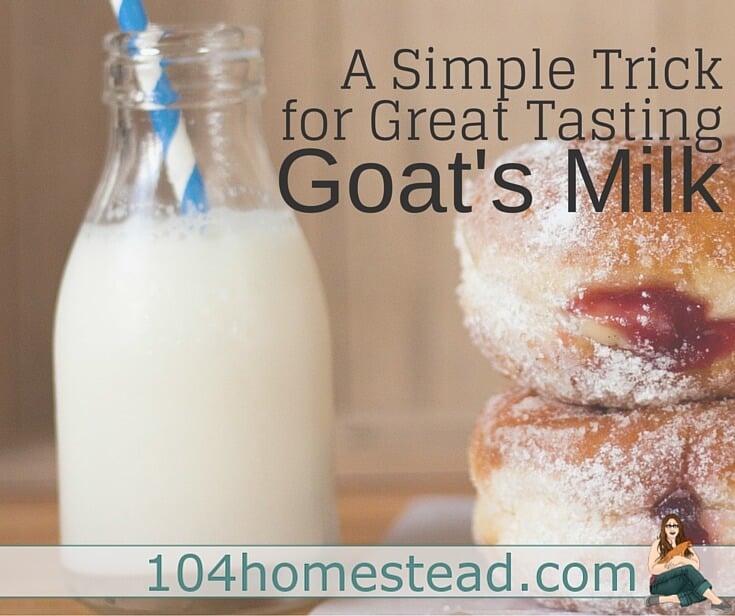 And when you just want to drink it, here's a trick that will ensure it will taste great all the time.
If you like monkey bread, you'll love this decadent and moist version with blueberries and goat cheese. Get the recipe here.
Love blueberries? You're in for a real treat. https://t.co/lJAcAFywp5 pic.twitter.com/CTAlmliQVb

— Homesteading (@HomesteadingUSA) March 25, 2016
12. Super Easy Salted Goat Milk Caramels
Craving something sweet? These goat milk caramels are so easy to make and will surely hit the spot. Recipe here.
13. Caramelized Onion and Fig Galette with Goat Cheese
Doesn't it just look divine? See how you can make it here.
14. Goat Milk Candles
|

Now if you want to take your candle making skills to the next level, try this tutorial.
15. Cranberry Goat Cheese Log with Walnuts, Pecans, and Parsley
Get a taste of the holidays even if there's no occasion. This makes a great appetizer! Recipe here.
Now that loos like a delicious healthy quinoa bake! This goat cheese dish is loaded with fiber and protein. Head on over to closetcooking to give it a try.
16. Homemade Scalloped Potatoes with Goat Cheese and Garlic
Cheesy, creamy, and simply delicious. It's easy and impressive at the same time. See for yourself here.
17. Potato and Goat Cheese Empanadas with Avocado Chimichurri
This is taking empanadas to the next level. Get the recipe here.
18. Crispy Goat Cheese Wontons with Chili Dipping Sauce
The simplicity of this recipe is just amazing. You'll be surprised at how delicious it tastes. Check it out here. 
19. Bow tie pasta with creamy goat cheese, spinach, and mushrooms
This enchanting meal is sweet, savory, and filling! It's perfect to share – get the recipe here.
20. Huckleberry Chevre Cheesecake Squares
A food processor will make things so easy when making these cheesecake squares. See how here.
Want to see how to make goat milk ice cream? Watch this video from Michigansnowpony:
What's your favorite thing to cook with you goat's milk? let us know in the comments.
Up Next: Raising Goats For Milk, Meat, and Profit | Homesteading Handbook
 
Follow us on Instagram, Twitter, Pinterest, and Facebook!
This post was originally published in June 2015 and has been updated for quality and relevancy.