Take these rustic fall wedding ideas on a budget and pull off the ultimate backyard barnhouse country wedding without breaking the bank!
Inspiring Backyard Barnhouse Fall Wedding Ideas
1. Hanging Lightbulbs
They say everything just seems to light up when you find "The One." This seems like a great idea to try for your wedding banquet table.
2. DIY Floating Leaf Place Cards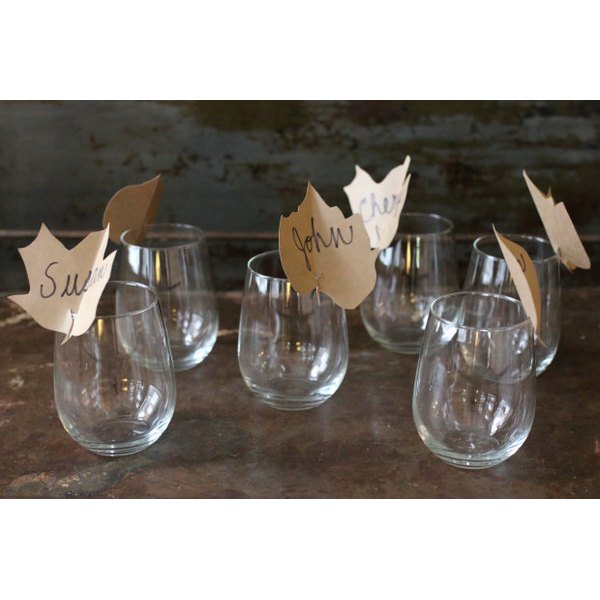 This floating leaf place cards idea is so much easier than it looks. You only need to collect fall leaves you deem perfectly shaped to use as your template for this project.
3. Glam Pumpkins
Since it's fall, what better way to decorate your wedding than with some glamorous pumpkins? Spice up your fall wedding centerpieces with glammed-up pumpkins.
4. DIY Pumpkin Flower Girl Basket
If you can think it, you can make it. Give your flower girl an adorable fall-themed basket by following these steps.
5. Easy Pumpkin Centerpiece
What better way to decorate this fall than with your abundant harvest of pumpkins. This is a super easy and inexpensive DIY centerpiece you can make for a last-minute wedding decor or centerpiece.
DIY #Wedding Invitation Kits https://t.co/Pj1joFhkXo pic.twitter.com/yEOEmFUw48

— DIY Ready (@DIYReady) January 25, 2016
6. Timber Centerpiece
Want to add a rustic feel to your big day? Then this timber centerpiece is just the thing you need.
7. Aisle Flower Arrangement
Save some space on the aisle for this fall-inspired flower arrangement on the chairs.
8. Doily Pumpkin
If you don't want your pumpkins glammed up, you can decorate with doily instead. It is super quick and easy, but you will only have to wait a little longer for the drying part.
9. Corn Husk Luminaries
What did we tell you about using your harvest for your decor? This is a wedding decor idea you can make with corn or corn husks. Try making these DIY luminaries, they'll only take 30 minutes to make.
10. Autumn Leaf Headband
There is something warm and glowing about fall leaves and autumn hues. You might want to take a look at fall leaves for your bridesmaids' headdress.
11. Autumn Inspired Boutonnieres
Now that the bridesmaids' headbands are all covered, you can now move on to your groom and groomsmen's boutonnieres. You will adore these autumn-inspired DIY boutonnieres with materials already available in your homestead.
12. Decorate the Barn with String Lights
String lights are always a fun and easy way to make any occasion special. If you're having your fall wedding in the afternoon and well into the nigh,t make sure you've got your place covered with fancy lighting.
13. Pumpkin Fall Arch
Lead your guests to the venue with these fall-inspired arch ideas and inspirations, plus tips and ideas on how to make your own or just buy.
14. Fall Ceremony Decor
Pull this off by getting some autumn leaf trees in the barn and line the aisle with some fall leaves.
15. Rustic Wedding Venue
Don't have enough space to hold the venue inside the barn? Take it outside and use this set-up as inspiration.
16. Rustic Wedding Invitation
A simple yet elegant wedding invitation with a theme perfect for your autumn wedding. Looks like a great inspiration peg, in case you want to DIY.
17. Chalkboard Paint Banner
Celebrate your new status by making this super easy burlap banner. Hang it up your wedding reception with your message written on it.
18. Wedding Garland
"Fall in Love"–there's no phrase that applies better. This wedding garland is definitely a must-have in a rustic-inspired autumn wedding.
19. Fall Themed Cake with Leaf Stamps
Want a playful cake that represents your "love" this fall? Take this idea and make your own unique and interesting fall-themed wedding cake.
20. DIY Pie in a Jar
Thinking of the perfect wedding favor? Capture the flavors of fall and put it in a mason jar. Bake, serve, and let your guests bring home a jarful of warmth from your special day.
Design your own fall wedding bouquet and find inspiration in this video from Garden Answer:
There you have it, homesteaders! Fall wedding ideas that are close to your heart and home. Homesteaders are some of the most practical yet sentimental guys around. We are sure these fall wedding ideas on a budget will help put your money where it's most needed as you start a whole new chapter in your life!
Planning a friend's wedding or yours? Which of these fall wedding ideas is making it to your list? Tell us all about it in the comments section below!
Up Next: Pallet Project Ideas | 23 Nifty Pallet Signs And Decors For Fall
 
Follow us on Instagram, Twitter, Pinterest, and Facebook!
Editor's Note: This post was originally published on October 24, 2016, and has been updated for quality and relevancy.