An emergency generator can kindle a home for days after a blackout, but the question is which emergency generator should you choose? Here's how to know which emergency generator should you put your investment on.
The Right Emergency Generator To Beat Blackouts
If you want to ensure your home is never without power, well, you'll need to put up an emergency generator. Generators provide peace of mind and comfort of being self-sufficient during blackouts. Being aware and prepared with an emergency generator will allow you to manage your power access during emergency situations.
Learn more about choosing an emergency generator in this impressive infographic from Texas Electricity Providers.
Generators
The Next Must-Have Household Appliance
The past decade has proven natural disasters can have a massive impact on our daily lives, in part because of our increasing dependence on electricity.
During 2011 there 27 major power outages in the U.S, including 5 events where more than 1.5 bill people lost power.
Consumer generators offer a solution for residents, allowing them to power their homes when portions of the national grid are offline.
Major Power Losses In The U.S. In 2011 And 2012
Hurricane Irene
9.3 Million Customers
Aug 22 – Sept 4, 2011
YOUR EXISTING AD GOES HERE
Superstorm Sandy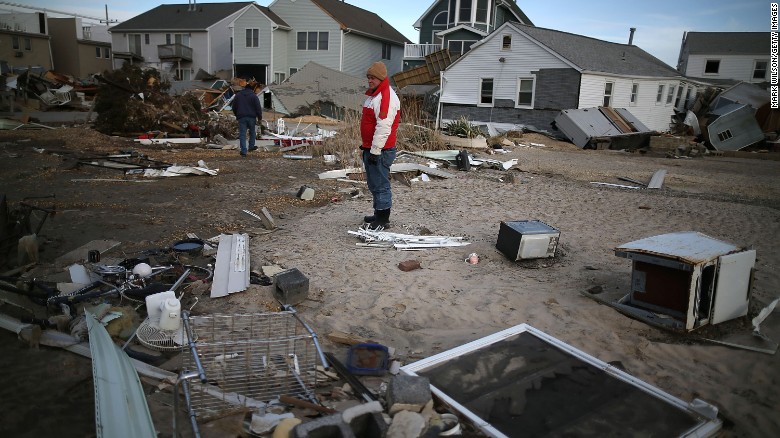 8.6 Million Customers
Oct 30 – Nov 7, 2011
Northeast Winter Storm
4.3 Million Customers
Oct 29 – Nov 7, 2011
Texas Blackouts, Central, And Eastern U.S. Winter Storms
2.4 Million Customers
Jan 31 – Feb 2, 2011
Central & Eastern Storms And Tornado Super Outbreak
2.2 Million Customers
April 25-28, 2011
Arizona & California Blackout
1.6 Million Customers
Sept 8, 2011
Because you gotta your homestead in one piece this winter! https://t.co/OFEiALkeJz

— Homesteading (@HomesteadingUSA) January 24, 2017
Which Generator Is Right For You?
Portable
Inexpensive (as low as $200)
No installation required
Not as powerful
Manual start required either by pull-cord or on-body switch
Have to run extension cords to individual appliances or pay for a professional installation option
Limited runtime because of the need to refuel repeatedly
Dangerous threat of carbon monoxide poisoning if not used in well-ventilated areas at least 20ft from living spaces
Standby
Expensive (starting at $2,000+installation)
Immobile
Professional installation required
Powerful enough to supply electricity to entire home
Automatically turns on within 1 minute of a power outage
Connected directly to your home's electricity panels
May never have to refuel because they tap into your natural gas line
Placement is regulated by local building codes to ensure public safety
How Powerful Does Your Generator Need To Be?
Both portable and standby generators come in a variety of sizes, based on how much power they are able to produce.
Generators are rated for their constant output and peak output capabilities.
To figure out what capacity you need in a generator, tally up the energy needs of all the appliances you want to use. Be sure to include their peak usage ratings to ensure you don't overload your generator.
Attempting to get a generator to power more than its capacity can cause serious damage to the generator and the appliances and devices you're attempting to power.
Just Scraping By
|

If you're only interested in scraping by with minimal access to power, you can save a lot of money buying a small 2,000-watt portable generator.
A 2,000-watt generator can power:
Gas furnace (750w) and a refrigerator (700w)
A space heater (1,500w) or a refrigerator (700)
Cellphone (4w)
5 CFL 60watt equivalent light bulbs (90w)
A tiny 2,000-watt generator can get you by even if you only have electric heat as long as you don't run your refrigerator and space heater at the same time.
$200-750 at a national home improvement store
Conservative Comfort
If you're not worried about all the amenities of day-to-day life, but want some creature comforts,
consider a larger 8,000-watt portable
or standby generator.
An 8,000 watt can power:
Gas furnace (750w)
Refrigerator (700w)
Water Heater (3,800w)
Electric Oven (2,000w) or a burner (800w)
Cellphone (4w)
10 CFL 60watt equivalent light bulbs (180w)
42″ LCD TV and cable box (350w)
$900-1,200 Portable
$2,200-2,900 Standby at national home improvement store
Situation Normal
If you never want to sacrifice the comforts of your everyday life due to a power outage, you'll be well prepared with at least a 20,000-watt standby generator
A 20,000-watt generator can power:
Gas furnace (750w) or central air conditioning (3,500w)
Refrigerator (700w)
Water heater (3,800w)
Electric oven (2,000w) and a burner (800w)
Dishwasher (3,600w)
3 42″ LCD TVs (1,050w)
Microwave (1440w)
Desktop computer (350w) and have the capacity to spare!
$4,500-8,750 at a national home improvement store
This chart is based on typical wattage ratings for household appliances and can give you a basic idea of how powerful your generator should be. It's important to always do your own calculation before purchasing a solution.
Want to learn how to install an emergency generator? Check out this video from Ron Hazelton:
Well, folks, having an emergency generator ensures comfort even during the hardest situations Mother Nature casts at you. So if you've got the budget, I guess there is no harm in buying one now and be prepared when the SHTF hits. Calculate your usage and find out what emergency generator works for you.
Did you find this infographic helpful and interesting? Let me know what your thoughts are in the comments section below.
Want a simple and efficient way to generate your OWN energy from home? Look no further than this step-by-step guide.
Want a solution on how to keep your whole family warm this winter? Knowing the best firewood for warmth will help you!
Featured Image Via Dover Electric