Looking for DIY Ugly Christmas sweaters? Here are some ideas that are downright ridiculous yet super fun to make — you're going to love them!
RELATED: 20 Homemade Stocking Ideas To Hang By The Chimney With Care
DIY Ugly Christmas Sweaters You Will Adore
Do-It-Yourself Ugly Christmas Sweaters For Christmas Parties
It is given in Christmas to sport the infamous ugly sweaters we've all grown to adore, so with all the Christmas party invites around your neighborhood, you will need a couple or more.
1. DIY Christmas Tree Sweater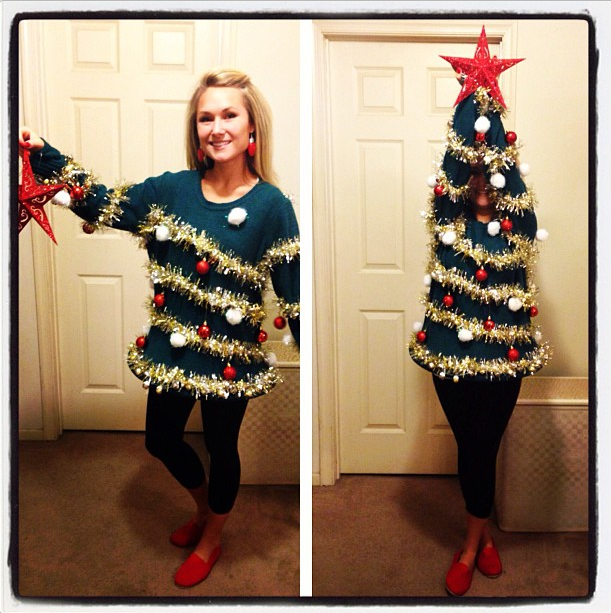 Be the focal point of your Christmas party in an ugly Christmas tree sweater.
Take this fun DIY inspiration that will transform you into a living DIY Christmas tree sweater with a matching tree star topper. Raise your arms to get that full ugly (but awesome!) sweater effect!
2. Texas-Themed Ugly Christmas Sweater
Don't wear an ugly Christmas sweater by yourself but make one for the hubby too! This way, you're not alone in the ordeal of having to don an ugly sweater for the holiday.
Besides you get to mix and match and sport DIY Christmas sweaters for couples in this Texas-themed rendition.
3. Christmas Stocking Ugly Sweater
Old sweater + Christmas stocking + hot glue = DIY ugly Christmas sweater! You can make this Christmas sweater with stocking decor in minutes, so go ahead and make one for each family member.
4. Full Body Ugly Reindeer Sweater DIY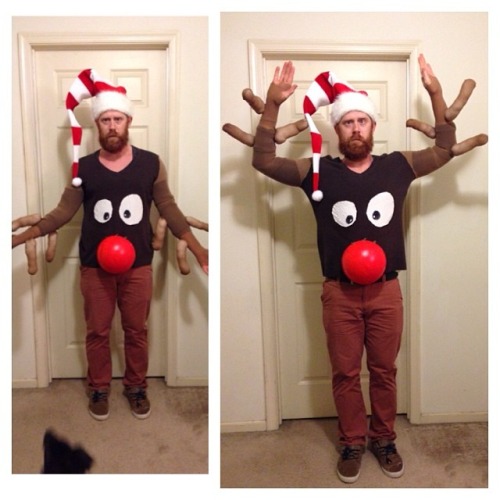 If you're looking for one ugly sweater that's somewhere between a funny Christmas sweater or the ugliest Christmas sweater, this is the one. You've never seen a sweater as outrageous as this reindeer sweater.
So much so that it will overwhelm your company with laughter and cringes. Now, isn't that exciting?
5. Star Trek Sweater
Take your ugly Christmas sweater to a whole new level of cringe and coolness with a Star Trek-inspired design. Your Star Trek-loving kids will certainly dig this one, even if they're not into ugly Christmas sweaters!
6. DIY Ugly Christmas Sweater Baby Edition
Of course, our little ones need not be spared from this trendy Christmas outfit. Dress up your baby in an ugly Christmas sweater for the holidays (while you still can!).
RELATED: 18 Snowman Ideas To Populate Your Homestead
7. Easy Reindeer Couples Ugly Sweater
It's tacky alright, but really sweet. There's nothing better than going to an ugly sweater party when you and your significant other have matching outfits!
Make one for you and your sweetie with this easy and simple step-by-step DIY Christmas sweater.
8. No-Sew Maternity Ugly Christmas Sweater
We can't stress enough how busy the days leading up to the holidays are. For an expecting homemaker, an ugly sweater DIY offers a relaxing yet productive outlet from all the brouhaha.
This simple no-sew DIY maternity ugly sweater couldn't be any more perfect.
9. Ugly Tie Christmas Tree Sweater
Put your husband's (or the Goodwill's) tacky tie collection to good use this Christmas season by making an equally tacky sweater. We suspect that with all your hubby's ugly tie stash, you can make a set of these ugly tie sweaters for the whole family and some to spare for friends.
10. Stuck-In-The-Chimney DIY Ugly Christmas Sweater
Now, this super ugly sweater is just scary—I think it's still stuck in Halloween season. But for the spirit of merry-making, we give this Santa's-stuck-in-the-chimney DIY sweater a place on this list.
Your homestead sure could use some creepy fun sometimes!
11. Burning Fireplace Ugly Christmas Sweater (w/ an Ipad)
Make an ugly DIY sweater complete with a burning fireplace effect courtesy of an iPad. We can't escape technology, so why not have some extra fun with it.
12. DIY Ugly Christmas Sweater for Your Kids
Make it just the way kids like it — over-the-top embellished and glittery! Luckily, the holidays are the perfect time to air out dusty clothing, so if you have some, it's also perfect for saving some bucks.
Refashion your kids or your own sweaters from your childhood and make your own kids some ugly yet memorable ugly Christmas sweaters.
13. DIY Ugly Christmas Sweater…with Lightbulbs!
It isn't every day that you get to sport ugly Christmas sweaters to Christmas parties. It's also only once a year you get a pass for looking so outrageous and ridiculous, so why not go all out?
Take these ugly sweater ideas for Christmas parties and bedecked with Christmas ornaments, plus Christmas lights. Don't forget the Christmas tree skirt!
Prefer your sweaters cute? Here's an easy DIY video from Tania Liceaga on how to decorate your winter sweaters for Christmas: 
For practical yet fun-loving homesteaders, these DIY ideas are just perfect! Luckily, these ugly Christmas sweaters are all easy to DIY with materials that may already have in your stash.
Which of these ugly Christmas sweater ideas DIY is your favorite? Which one are you going to try? Let us know in the comments section below!
UP NEXT: 
Follow us on Instagram, Twitter, Pinterest, and Facebook!
Editor's Note: This post was originally published on December 14, 2015, and has been updated for quality and relevancy.