Want to make some awesome DIY tools that you can also use as weapons? Check out these 11 DIY tools you can make at home.
11 Useful DIY Tools That Can Save Your Life
In a survival situation, these useful DIY tools can be as effective as any weapon created to protect and harm. Remember to apply caution when making these so that you can avoid hurting yourself and others. While we sure don't condone violence, we do believe in being prepared, informed, and safe. Here are some ideas to guide and inspire you.
*Disclaimer: All content on this site is for informational purposes only. Please follow your state, local, and federal laws whenever buying, customizing, operating, possessing, transporting, manufacturing, or selling any types of weapons.
A knife is an important tool in any home, easy to make and handy in different tasks. The knife is also one of the ideal tools to have when SHTF, so if you break or lose one, don't worry because you can easily make a new DIY knife.
In using the knife as a weapon you have to remember that when you are involved in knife fighting, it is not all about fighting at all, but it's about defending and surviving against an attacker. You'll need precision, balance, and intelligence when using a knife to as a defensive weapon.
You'll never believe how easy it is to create your own DIY PVC fiberglass bow! You can now have a tool for hunting or an interesting and useful hobby to practice with the kids.
YOUR EXISTING AD GOES HERE
The bow and arrow has been utilized as an effecient hunting gear for thousand of years and continues to be useful even today. It even has a great advantage over a gun because it is a silent weapon. You'll never know when you might need a weapon that is quite as well as deadly.
If you are into survival bow techniques, you're probably aware that the most difficult part of making your own bow is having the right material for an efficient arrowhead if you're on the move. Luckily, you can easily transform a spoon into a deadly arrowhead.
Around the homestead, you'll never know when you'll need a fire. As we all know, fire is essential to survival. Yes, a fire starter may not be that useful when it comes to defending yourself from an attacker, but it plays a great role in outdoor survival, especially if you get lost in the wild. Having a fire starter handy can mean saving your life.
This DIY spear can be used to catch fish or protect yourself from an unexpected intruder when camping. I would say this tool is a must-make if you love roughing it in the outdoors.
Throughout the history of Medieval Europe, spears were primarily used in mass combat. As a weapon of war, it best because minimal training is needed to use it efficiently in formations. In a single battle, the spear remains a deadly weapon. With an extremely quick thrust and excellent range than most swords, it is exceptionally hard to defeat a spearman.
Become better outdoor warriors this weekend and teach yourself how to build a debris hut! #Prepper #Survival https://t.co/3zh1ycJGGE pic.twitter.com/LHyvo2vCYW

— Homesteading (@HomesteadingUSA) February 24, 2017
6. DIY War Hammer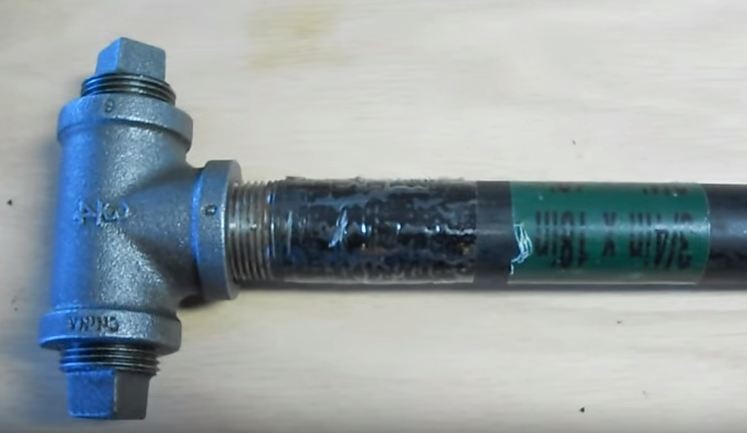 With a little creativity and some plumbing equipment, you can make yourself a marvelous DIY war hammer that will get the job done easily and quickly. You can face any threat in stride when SHTF and can feel confidently safe using your handcrafted war hammer.
A war hammer was designed intended for close combat during the late medieval era. A later version of war hammers had a spear on one side of the head, making it even more deadly. It can create good damage if you swing it forcibly and hit your attacker especially if it is made of heavy duty materials.
7. DIY Sword

A sword is a medieval weapon, but it has long reach and it is as lethal as ever. If you are interested in having a DIY sword, this could be your perfect tool and weapon at the same time.
Unlike the spear and bow, the sword is a purely military weapon and may require special training to use it properly, but nonetheless, sword is still a deadly weapon worthy of keeping it safely in the homestead.
8. DIY Slingshot

A slingshot is one of the most popular propelling weapons used for battle or hunting since the Stone Age. It's easy to make, has long range capability, and can be deadly if used in close distance. And if you're creative, you'll never run out of ammo.
9. DIY Multifunction Pocket Tool
If you need a more efficient homemade tool and weapon then this DIY multifunction pocket tool is tailored for you. You can use it to help you with your daily tasks, thus it is very much customizable to fit your needs.
In terms of using it to defend yourself, it can be an effective Kubotan. A Kubotan is a mini stick used for self defense weapon. Some consider it only as an amplifier to your defense or attack.
10. Primitive Club Weapon Or Tool
When lost in the wilderness, chances are you have limited resources. Knowing how to create this primitive club weapon or tool could come in handy. This basic technique can rapidly transform a handful of items into an effective weapon and tool that help you in survival.
11. DIY Cane
A cane is not just there to help you walk but it could be one of the best innocent-looking weapons you can have. Swinging the cane and striking with the back of the crook creates heavy blows. Smashing the cane forward with a had the either end permits the user to fend off an approaching attacker. Thus, making it an effective self-defense weapon.
Want more DIY tools? Check out this video for top 10 DIY tools you need by Robin Lewis:
Well, my fellow homesteaders, you're probably aware of the significance of having tools and weapons. It's instilled in every one of us; we should have one or two to help us with our daily tasks but it best to have one that you can rely on easily if things take a turn for a worse.
Which DIY tool do you think is most effective as a weapon? Let us know what you think in the comments section below.
Want to know which essential tools you should keep in your homestead? Check out here essential tools every homeowner should have and be ready for anything!