32 Cauliflower Recipes and Ideas for Healthy Eating
Cauliflower is a healthy alternative to it's carb-filled counterpart – the potato. If you're worried about filling yourself up with low-carb recipes, worry no more. I have compiled a list of the best, most filling, family-friendly cauliflower recipes out there!  You won't even miss the extra carbs (potato who?). So load up on all the flavor and nutrition of these low-carb, delicious cauliflower recipes!
1. Caramelized Cauliflower Frittata
Load up your breakfast with fiber – grab some cauliflower, grab some eggs, grab some nutmeg and get to work. This delicious cauliflower recipe will take a bit more prep time than the usual scrambled eggs and french toast for breakfast but it will definitely be worth it. Get recipe here.
2. Cauliflower and Bacon Hash
Cauliflower perfectly browned in bacon fat and all soaked up with tasty flavors – DELICIOUS! This recipe is perfect for those who are not very keen on potatoes. Cauliflower provides the perfect body and texture that you expect from a real hash, not to mention a healthy dose of added nutrition. Get recipe here.
3. Cauliflower Breakfast Muffin
Breakfast and snack muffin made of cauliflower, eggs and ham. Your kids will definitely dig this recipe. You can even stash a few in the freezer for busy school day mornings. Get recipe here.
4. Mashed Cauliflower
If you love mashed potatoes but hate the loaded carbs, then this one's for you. Mashed cauliflower surprisingly tastes very similar to mashed potatoes but with fewer carbs. Top it with chopped herbs and grated cheese for a perfect dish. Get recipe here.
5. Zesty Spiced Cauliflower
Pan-steamed cauliflower enhanced by the mild bite of cumin and turmeric. Get recipe here.
6. Cauliflower Soup
Pureed cauliflower to make a silky smooth soup. Nutritious, delicious, and very easy to make! Get recipe here.
7. Creamy Curried Cauliflower Soup
Curry powder and almond milk deliciously conspire with cauliflower to produce a full-flavored blended soup that's creamy on the palate without including any actual cream. Get recipe here.
8. Cauliflower Mac and Cheese
Cauliflower takes the starring role for a lighter, healthier mac & cheese recipe. It's very simple to put together. Get recipe here.
9. Crispy Cauliflower Burger
Panko-crusted cauliflower "steaks" topped with provolone cheese, roasted red peppers, and an "optional" spicy hummus mayo – this recipe will totally turn your  burger world upside down! Get recipe here.
10. Bacon-Cheddar Cauliflower Chowder
Warm up a cold fall evening with this this lightened-up version of baked potato soup. Low on the carbs, high on the nutrition. Check out the full recipe here.
11. Balsamic Glazed Cauliflower "Wings"
Keep the boys happy and healthy during game nights with this game day recipe. Cauliflower just got a little 'manly' with this seven-ingredient sauce. Eat as a snack or pair with a side salad for a full meal. Get recipe here.
12. Buffalo Cauliflower
The cauliflowers don't taste like chicken, but the spicy flavor and texture were pretty close to boneless wings chicken. If you're planning to cut out meat in your diet, you might wanna give this a try. Get recipe here.
13. Paleo Cauliflower Tortillas
Make this Paleo, gluten-free recipe with just four ingredients. Use them to make tacos and quesadillas or eat them straight out of the pan. Get recipe here.
14. Red Lentil Cauliflower Burger with Chipotle Habanero Mayo
The name of the burger is not as long as it's layers – burger bun layered with a little Chipotle Habanero mayo, then spinach, then the chickpea onion rings, then red lentil cauliflower patty, then some roasted mini peppers, then pickled Jalapenos, more chipotle habanero mayo, fresh cilantro and another burger bun. This recipe is the ultimate vegan burger! Get recipe here.
15. Mini Cauliflower Pizza Crusts
Why cauliflower pizza crust? It's awesome. It's tasty. It's the low-carb alternative to regular pizza crust. What are you waiting for? Make one to try one! Get recipe here.
16. Wild Coho Salmon with Sunshine Rice
|

Here's an oven-baked dish that's an easy solution for busy weeknights.No need to inhale those disgusting processed foods, this recipe is easy to make and oh-so deliciously packed with nutrition. Get recipe here.
17. Cauliflower Chickpea Masala Burgers
Another cauliflower burger recipe with an Indian twist. It's like an Indian meal on a bun. Get recipe here.
18. Asian Cauliflower Lettuce Wraps
These Asian Cauliflower Lettuce Wraps are light, flavorful, and just have the perfect amount of kick! Get recipe here.
19. Almond Coconut Cauliflower Rice
This Thai-inspired side dish is ridiculously quick and easy to make. It's insanely fragrant and is loaded with nothing but nutritious ingredients that'll do your body good. Get recipe here.
20. Curried Cauliflower Salad
This salad has cauliflower seasoned to curry perfection combined with roasted cashews tossed in spiced maple syrup, and topped with homemade dressing. Get recipe here.
21. Crispy Cauliflower Tacos with Slaw and Avocado Cream
It's crunchy, tangy, crispy, creamy, citrusy, vibrant and delicious all at the same time! This is a perfect Mexican-inspired meal even meat lovers will embrace. Get recipe here.
22. Skinny Baked Cauliflower Tots
Cauliflower and tater tots fused together. The mixture for this recipe is pretty simple and easy to put together, you can make it in just 25 minutes. Get recipe here.
23. Oven-Roasted Cauliflower with Garlic, Olive Oil and Lemon Juice
Cauliflower and Parmesan put together in an elegant classic recipe. It's an easy 20-minute recipe. Get recipe here.
24. Low-Carb Cauliflower Fried Rice
This is an easy stir-fry recipe without the carb-overload. Toss in whatever veggies or protein you'd like with the cauliflower base and enjoy. Great for putting leftover foods to good use. Get recipe here. 
25. Cauliflower Au Gratin with Crispy Pancetta
This recipe is an awesome comeback of the '80s dish that kind of fell out of grace for a while. Get recipe here.
26. Italian Roasted Cauliflower Salad
This recipe is a delightful mixture of capers and olives that pairs perfectly with a splash of lemon juice and starchy cauliflower. Toss in some garlic and parsley to kick the flavors up another notch. Get the full recipe here.
27. Crispy Orange Cauliflower
Revamp your typical Chinese take-out with this awesome recipe. Get recipe here.
28. Cilantro Lime Cauliflower with Avocado
Lime, cilantro, garlic and avocado all mixed in with cauliflower and baked into cheesy goodness. I can hear your taste buds singing now. Get the recipe here.
29. Gluten-Free Cauliflower Brownies
My eyes almost popped out when I saw this. Cauliflower brownies! Can you believe that? I'm sure you're just as curious as I was! Get the recipe here.
30. Paleo Chocolate Pizza with a Cocoa Cauliflower Crust
Chocolate and pizza – two sinfully delicious foods made more nutritious by cauliflower. Get the recipe here.
31. Raw Cauliflower Couscous with Kale and Cabbage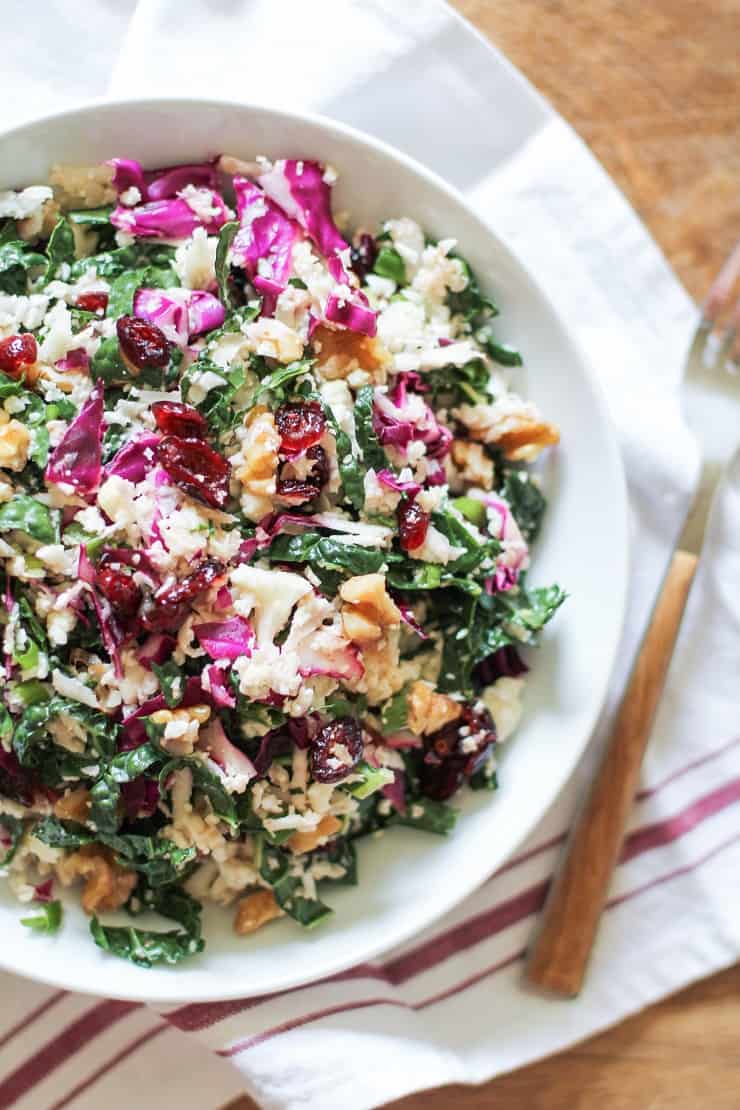 When you're craving something fresh and fast, this nutrition-laden salad will take only 5 minutes to make. No cooking required. Get the recipe here.
32. Crazy Ingredient Chocolate Cake
This isn't your ordinary dessert. It's made healthy by a surprising ingredient. You guessed it – cauliflower! The cauliflower makes the cake soft and delicious. Have fun testing the cake out on people who don't know what's in it beforehand and watch their shocked reactions when you reveal the secret ingredient! Get the recipe here.
That's all, fellow homesteaders! Did you enjoy our list of healthy cauliflower recipes? Let us know in the comments section below what you thought of our cauliflower recipes. Do you have a favorite cauliflower recipe that's a staple on your homestead? Share it with us and we'll give it a shot. We love doing DIY homesteading projects and becoming more self-reliant by learning more about how everything works around the homestead. That's why Homesteading was created. We want all folks looking to lead a self-sufficient life, either on a homestead or in an urban environment, to come together and learn from each other! Of course, we welcome your help in creating a community of homesteaders.  Come and share your homesteading tips and ideas, recipes and expect the best advice on self-reliance and homesteading trials from our team of long-time homesteaders, self-reliant wilderness, and preparedness experts. Want to write for Homesteading? Shoot us an e mail and make sure to stay in touch on Facebook, Twitter, and Pinterest!
Do you have Instagram? Don't forget to join us @HomesteadingUSA.
Click here to Like Us on Facebook.
Click here to Follow Homesteading on Pinterest.