Need exciting new canned food storage ideas? This list is exactly what you need to have a well-organized canned food supply that'll make your food prep easier and more satisfying!
Canned Food Storage For A Well-Organized Homestead
With modern pantry designs becoming more and more small and narrow, it's become even harder to store anything in them, much less a year's supply of canned food! But don't fret, there is always hope! I searched around the Web and I was happy to find great canned food storage solutions to help remedy your pantry space situation.
The answer to food waste is this 206 year old process that every homesteader needs to know….Check it out here. 
Create DIY Can Organizers
1. DIY Wall-hanging Canned Food Storage
Transform an empty wall into an amazing storage space. If you have the right spot to put up this DIY wall-hanging canned food storage, this could be perfect for you since it can house a total of 272 cans.
2. DIY Sliding Cabinet For Canned Food
As the creator of this DIY sliding cabinet for cans says, it basically changed her life. That's already a reason enough for you to try it out. It will help you transform a wasted space into the perfect spot to organize canned food supplies.
3. DIY Canned Food Storage
A woman's touch makes all the difference! Just look at this DIY canned food storage unit –it's ingeniously wonderful! Can't wait to make one for my homestead!
4. DIY Canned Food Storage Rack
This DIY canned food storage rack will definitely rock your spare wall! It's super easy to build, so you don't have any excuse not to make it, especially if you're trying to de-clutter your pantry. Check out this ready to go food storage for canned food.
5. DIY Canned Food Dispenser
If you are burdened by the many cans you have to handle, well, then it's time to make a practical and functional DIY canned food dispenser for them in your pantry. All you need is a little DIY, and it looks easy enough that even a novice carpenter or a woman can make it.
6. DIY FIFO Can Rack
If you want to save valuable shelf space, this DIY FIFO can rack will help you with that. With only 2 square feet of floor space storing up to 120 cans, don't you think that's a pretty good deal for such little real estate? If you do, then you've found your next DIY weekend project.
How do you like them (heirloom) apples? ???????????? https://t.co/0pf7koJ5Iq #YUM pic.twitter.com/M3PPWOMA2A

— Homesteading (@HomesteadingUSA) February 21, 2017
Make Use Of Your Wasted Space
7. Store Buckets Under The Bed
Not having free space is not an excuse because even beneath the bed is a prime storage spot. If DIY-ing is not your thing, just grab some buckets, fill it with your canned food and put in under your bed.
8. Put Some Shelves Up High In Your Pantries And Closet
If you are a prepper, you would really find your closet or pantry's topmost space a great spot to store some of your canned food. If you have not thought about that before, you'd better check your closet or pantry and see if the topmost space is left unused.
9. Utilize Backs Of Doors
I love this idea! Now I know where to put all my dried herbs and spices, I got an extra space at one of my kitchen cabinets here in my homestead. I can't wait to get started utilizing the back door space!
10. Use Space Under Staircase
I'm absolutely amazed by how this clever prepper transforms his under staircase space into a very functional storage area for canned food and other supplies.
11. Maximize Corner Space By Adding Lazy Susans
If your pantry is need of a makeover and the call for organizing your canned food is already deafening, this idea to add lazy susans to the corner space of your pantry will work perfectly.
More Tips And Tricks For Creative Canned Food Storage
12. Conceal Canned Food In A Bench Seat
While every piece of furniture has its own purpose and benches are just great multitaskers–you can use the space as storage for any supplies, so if you have one near your pantry why not use it to conceal your canned food?
13. Use Attic Storage Efficiently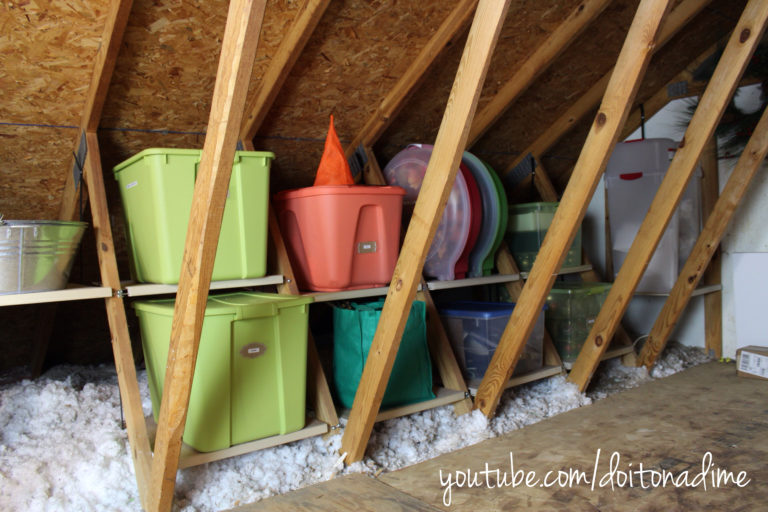 An attic can house almost anything, it just a matter of how you use its space efficiently. The next time you get inside your attic, plan ahead and make use of some helpful tips on how to use your attic storage efficiently.
14. Repurpose Magazine Rack Into A Canned Food Holder
|

Canned food sometimes present difficulty in storage, as they take a lot of room and, if stacked incorrectly, can cause a dangerous accident or a mess. However, Pamela at PB&Jstories found that a magazine holder is clearly an ideal organizer for cans turned on their sides. With two straightened and splash painted bobby sticks as holders at the bottom, canned foods are flawlessly contained on your shelf.
15. Label Your Canned Food
Labeling your canned food is ideal if you keep your canned food in a drawer, as it lets you know which is which at a glance. I would suggest you include the expiration date so that you can easily apply the first-in-first-out method.
16. Add Closet Racks
Installing closet racks to your cabinets would allow you to display your canned food and easily find what you need at a glance.
17. Organized Canned Food Inside A Basket
Organize canned food by its kind inside a basket. Here, you see canned soups, canned fruit, and other kinds of canned food grouped together. Clever!
Still up for one more canned food storage ideas? Check out his video from Lacquerandlace Vintage at heart:
When it comes to organizing and storing anything your imagination and creativity are the only limits. Though canned food may likely use up a lot of space anywhere you put it, there's always a way to keep it as organized as possible. I hope you've found what you've been looking for in this list of canned food storage ideas.
Which canned food storage idea will you try? Let us know in the comments sections below!
Need more food storage ideas? Check out 12 Food Storage Ideas for Small Homes and be the master of your space!
Follow us on Instagram, twitter, pinterest, and facebook!
Featured Image Via MotorHome