These sewing hacks are worth your while. Next time you have a sewing project these sewing tips and tricks will make life a bit easier.
After sewing for years I've naturally acquired a handful of tips and tricks. I've gathered together 25 of my favorites just for you. Read on for some of the best sewing hacks out there, and you'll be master of the machine in no time. Don't miss out on this awesome list of sewing hacks you'll want to try at home. I've seen tons of sewing tips, but none that were as simple and as straightforward as this one. You're going to be sewing like a pro after you've gotten to the last one! Don't believe me? Make your way down my list and see what you think!
1. How to strengthen your thread so it won't break
Use this little gadget, it's wax and you pull it through, the thread is coated in wax to be nice and strong while you hand sew
|

2. How to get that needle through the hole (in a sanitary way)
Use hairspray. Spray the tip so it stays straight
3. How to sew over lumpy fabric
Next time you're sewing over lumpy fabric like terry cloth or fleece, Use a plastic bag, place it over the fabric you are sewing and watch that presser foot glide!
4. How to sew in the easiest zipper
Sew up your seam as you normally would, place zipper face down over the seam allowance and sew it in place. Cut open the seam with your seam ripper to reveal the zipper underneath.
|

5. How to use stay stitching to your advantage
stay stitching holds the shape of your material in place, as you ease it around curves. Stay stitch anything that isn't cut on the grain or crossgrain to prevent it from becoming disfigured. To stay stitch, stitch within the seam allowance, try 3/8″ if your seam allowance is 5/8″ and follow the curve of the piece. Stitch symmetrically, start your line on the outside and work your way in on both sides, if working on a center fold
|

6. How to sew with decorative thread so it won't break
Use two spools of thread, thread them through your machine and around your needle the same way you usually would, having both pieces of thread through the eye. Now when you sew with the delicate metalic thread, the regular thread will help support it.
7. How to quickly mark your seam allowance
Rubberband 3 penciles together for 5/8″, or 2 pencils for 1/2″. Trace the edge of your pattern piece for a perfect seam allowance every time.
8. How to always have sharp pins
Next time you make a pin cushion, use a steel wool as stuffing. It will keep you on your pins and needles! Stuff it even fuller with rice, which will help absorb any moisture.
9. How to find your grain
Clip into your selvage just a tad, and pull on a loose thread. It will tug at your fabric and gather a little, gently pull it all the way out. The line this thread left behind is your cross-grain, perpedicular to your grain line. When you fold your fabric in half this line should match up on both sides.
10. How to sew if you don't own a sewing machine
A glue gun is messy and clunky way to sew. However, if you're not interested in making anything fancy, perhaps just a new table runner for the next party, or a quick pant hem, break out the glue gun! Just keep the same rules of sewing in mind, and don't forget your seam allowance.
11. How to get that drawstring in
Need to pull all that cord or elastic through that waist band? pin the end with a safety pin and drag it through, bunching up the fabric as you go. This technique is technically done with a bodkin, but those aren't just laying around the house by the dozens now are they?
via (likeflowersandbutterflies)
12. How to turn those thin projects
Turning a small bag, or in this case, a small tail? Use a straw and a chopstick or skewer, do as the pictures says and poke one side into the other.
13. How to prevent your tights from running
Tights have a way of running away on us, if yours start to tear, stop it in its tracks by dabbing clear nail polish over the ripped area.
via trendylegs
14. How to keep your buttons on
Apply clear nail polish over the top of your buttons. It will help keep all the little threads in place. Too late? Learn how to sew on a button here.
15. How to quickly take in your clothes
Turn your clothes inside out and sew up the sides to make them fit better. If your clothes are made of a stretchy material, use the zig zag stitch on your machine.To truly get the perfect fit, where the clothes inside out, and pin in the sides. Mark your fabric where the pins are, remove them so you don't stab yourself, then remove your clothes and sew up the sides. Do this for basic shirts, dresses, pants. You'll find all your clothes are fitting much better in no time.
16. How to quickly sew in elastic
In the need of a quick elastic stitch fix? Maybe want to attach elastic to something but don't want to bother gathering it, or dragging it through the casing. Just stretch out your elastic over the area you want to cover, and sew it in place, holding the stretch elastic over the flat garment. The garment will pucker as you sew, but the elastic will remain taught as long as long as you hold it in place.
via (sewmeyourstuff)
17. How to keep your pattern pieces down
It is recomended to pin your pattern piecesin place over the fabric. But you can also use anything with a bit of weight to it. Examples include nuts and bolts, washers, spare change, and river rocks. Get creative, as long as your pattern pieces stay in place you won't have anything to worry about.
18. How to fake that hem
Use the same pattern piece that you used for the bottom of your garment to cut the hem, but just trace the bottom 2 inches. Cut out your fabric, pin it to the bottom of your garment (right sides together) stitch and turn. Bam! A perfectly fitted hem, no weird puckering or unforgiving stitches. Use this basic hem guide courtesy of oliverands and you'll never hate that final step again.
via (oliverands)
19. How to keep your pins and needles in order
Add magnets to a bowl to keep your pins in place. I love using these while sewing, tossing them into a bowl saves time as I remove pins as I sew.
20. How to keep from fraying
Cut your fabric out with pinking sheers to keep it from fraying while you sew. This will also save a step when you're finishing your garment (if you're in a hurry).
21. How to never lose your scissors
Grab a piece of ribbon long enough to wear as a very long necklace, loop your snips throught it, and tie it around your neck. Now you'll like a true seamstress, and never lose your scissors again!
via (feathersflights)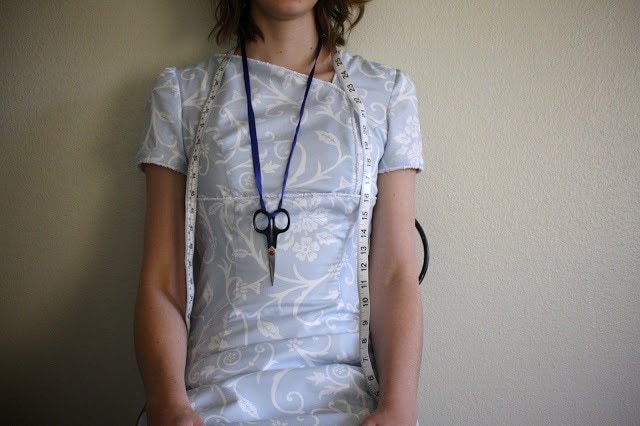 22. How to keep your clothes from shrinking
Always prewash your fabric, checkout this link on craftsy for some tips on all the different kinds of textiles. Zig zag stitch your edges before washing if your fabric is prone to unraveling.
23. How to know which side to sew
Did you know all fabric has a RIGHT and a WRONG side? This terminology might sound a bit odd while sewing, "Sew the wrong side? That can't be right!" Just keep in mind, the right side is typically the side where the pattern is at it's best, or the side you want people to see.  If your fabric is truly the same on both sides, like a muslin, just try to keep your sides consistent so you don't get confused.
via (howtosew)
24. How to never run out of thread
Use serger thread on your sewing machine. Ok so you'll run out eventually, but it's going to take a lot longer. If it doesn't fit over your spool pin, invest in a spool stand.
via (boutiqueit)
25. How to fake a hem
Maybe it's just me, but I love bias tape. Use this to add a crisp even finish to any raw edge. It might take a while, but I prefer it over rolling under hems or fiddling with lining. Learn the technique here.
Remember these 25 tips next time you're sewing, or are in desperate need of a quick stitch fix! Have you come across any of your own sewing hacks not mentioned? I would love for you to share them below.