Ready to FALL in love with rustic decor for your home? If you are, then take a look at these 17 rustic home decor  ideas to do yourself this holiday season!
Fall is totally here! With all these trendy and rustic decorations going up, I couldn't help myself and simply had to create a round-up of rustic fall decor ideas! I had to spread the astounding creativity of people and bloggers who put in the effort to make their homes cozy staycation destinations for the holidays. Read on because I believe you, like me, will feel inspired to get working on your DIY rustic fall decor!
17 Timeless Rustic Decor Ideas For Fall
Fall is coming! Make sure your rustic decor is on point! Each year when the fall decorations come out, so does my sentimentality, and I can't help but think about the good ole days. Perhaps it's this family oriented time of year, but I always enjoy getting back to my roots and refocusing on simplicity. You know, back when the daily pace was much slower and you actually had the luxury of taking the time to feel the breeze pass by your humble home.
With the hustle bustle of modern life, there is more reason than ever to bring back the simple rustic country look of your modern home. Enjoy browsing this list and let yourself take a trip down memory lane while cultivating ideas for your rustic home decor.
Pallet projects ahead! A pallet is definitely rustic and you can use it to create many different and amazing fall decorations. Used here as a sign to paint, an old pallet provides the perfect canvas to make something new from something old. The dated pallet provides the perfect rustic background for your warm fall wishes! Use this outdoors or inside!
2. Rustic Fall Mantel with DIY Wood Pumpkins & DIY Barn Wood Shutters
Complete the ultimate cozy spot in your home in front of a crackling fire to combat the chilly weather! Do it in style with beautiful fall mantel ideas. The use of upcycled treasures like the window frame and barn-style shutters above provide the perfectly rustic charm to compliment your charming fireplace setting. Pull your living room decor together with wonderful ideas for your mantel.
3. DIY Crate Shelves
With these DIY crate shelves, your fall collection will have the perfect display. You can use them for personal items in a bedroom or for more decorative photos, candles or other rustic decor in a family room. Also, be sure to arrange them in a visually appealing order or design in order to make the most out of your crates as storage, but also as wall art!
4. Fall Rustic Mason Jars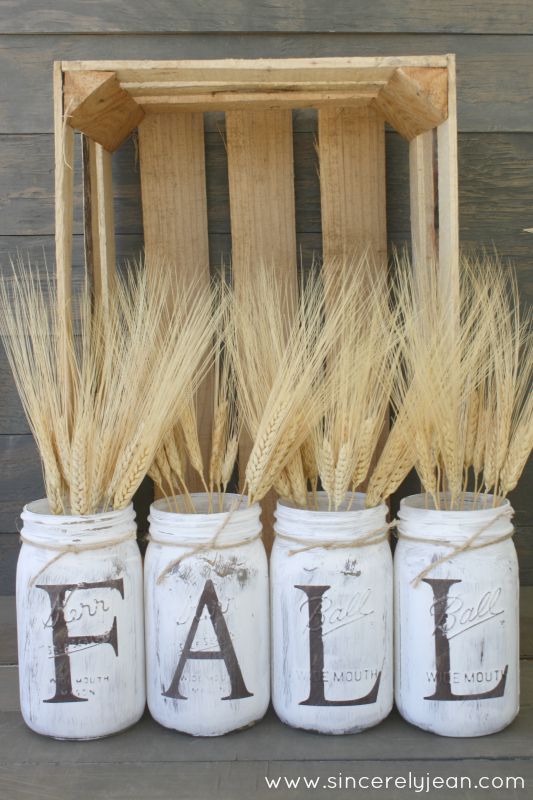 Easy to make but with fall flair and elegance. The best part of these fall rustic mason jars is that they can go virtually anywhere in or outside of the home. While the wheat is a nice touch, you could put many decorative items on display with this one! You can also replace 'Fall' with 'Harvest' or a variety of other autumn themed words. Just be sure to make the lettering large and bold!
5. DIY White Pumpkin Vase
This could be your gorgeous Thanksgiving centerpiece! The best part about it? You can virtually create anything you want here. Start with the base white pumpkin and add anything that strikes your fancy. This could be leaves, pinecones, a sprig of holly – anything that says 'fall' to you! Learn how to make this lovely white pumpkin vase and let your home be the new standard of lovely fall decor!
YOUR EXISTING AD GOES HERE
6. HUGE Front Porch Welcome Sign
Spell-out your excitement of welcoming the season and your visitors in this HUGE Front Porch Welcome Sign. The entryway to your home is the first impression anyone will have of your festive fall spirit. With these huge letters welcoming in your guests, they'll never wonder if they can relax and feel welcomed. Showing your welcoming spirit is one of the best ways to greet your guests!
7. Easy Rustic Fall Candle Holder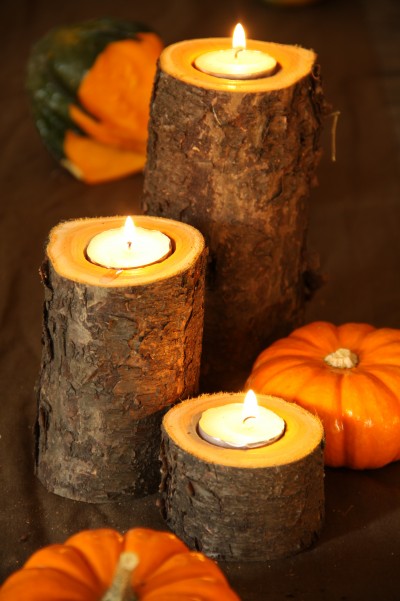 If you're like me, you've been stocking up for your wood burning fire place for a while now! Spare a few logs and create these earthy and rustic candle holders! These really are incredibly easy to make. They are also the perfect example of your rustic and upcycled innovation! Who needs to spend tons of money on 'made-new-to-look-old' decor when you can use real bits of nature to create a lasting a beautiful impression like these candle holders?
8. DIY Rustic Fall Sign
Gather cut birch logs or branches of leaves in a container and create a rustic palette fall sign to add a rustic fall decor to your living room. This is similar to the large welcoming sign above, but with a fresh spin. Create a sign that is modern in design and rustic in materials. You will be left with a beautifully creative and expressive piece to compliment your entryway.
9. DIY Apple Chalkboard
Make the perfect chalkboard for fall by making it in apple formed chalkboard to write down messages or a festive welcome! Alright I have to admit that I really love this one. What a creative way to incorporate the new trend of chalkboard paint with a down-to-earth nature vibe? Take a slice of a tree stump and paint it with chalkboard paint to house your welcoming message!
Happy First Day of Fall! Here are 12 gorgeous places to visit this season. https://t.co/tzO3ri3UKR pic.twitter.com/VbFn9eB2H7

— Homesteading (@HomesteadingUSA) September 22, 2016
10. DIY Song Lyric Sign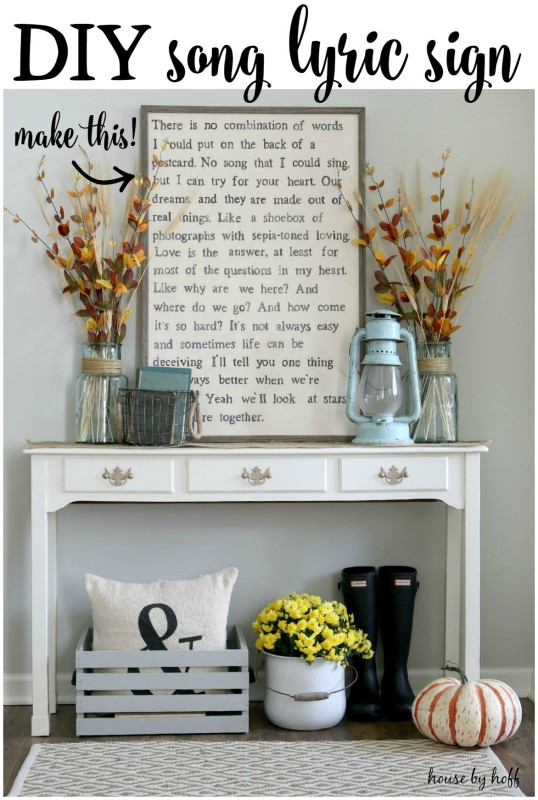 If you love Jack Johnson's song "Better Together" then, this DIY song lyric sign is must have for your rustic fall décor. Even if you have another song that sings to your soul, this decoration can be a fantastic option. Music has a way of bringing people together during the holiday season and with this option, you can create decor that matches. Embrace your musical side and create decor with song lyrics!
11. Rustic Fall Wreath
Rustic burlap and yarn to create that amazing fall wreath that showcase the harvest flair with elegance. As we all know, burlap is a rustic decorator's best friend! Burlap has a way of taking any project and making it look earthy or shabby chic. This fall wreath is no exception! Let your creative simplicity shine through by decorating with this simple product!
12. Grateful – Thankful – Blessed
A simple way to display your fall gratefulness, thankfulness, and blessedness! Again, signs signs signs! This one is different yet as it requires the reverse of painting letters on a board. In this case, cutting out letters to be placed on the board before painting is the key as the lettering is made from the textured wood, while the background is painted. Give this awesome project a try!
13. Maple Leaf: Free Fall Printable
Just because I love my homesteaders…enjoy this printable cut out! I will be the first to admit that we are not all artists, but with this printable cut out, you can take a drawing, print it out and display it as artwork! This maple leaf sketch will give you that instant rustic fall décor. For best results for this rustic decor, print it on a durable or think paper that will look more decorative than a basic white sheet of paper!
14. DIY Rustic Fall Sign with Chalky Finish Paint
What an amazing way to welcome the harvest season into your home! Instead of using full on chalk paint to use as the background for your written welcome, try this rustic decor! For this, the chalk paint is used as an accent to give your welcome sign just the right amount of a 'weathered' look to keep the rustic decor alive. This technique works beautifully on this sign, let it work for you too!
15. DIY Fall Woodland Frame
This DIY fall woodland frame is complete with acorns, moss, and pinecones you can follow it or customize it by adding a fall themed quote or favorite family photo. With this frame, the sky is the limit for what you can use to decorate your frame! Feel free to make a day of it! Go exploring with your kids and forage for the creative items needed to make your own personalized DIY fall woodland frame! Embrace the outdoors!
16. Rustic Fall Front Door
This entire entryway is the perfect example of a welcoming entryway. If I walked up t this front door, I would immediately be filled with a sense of warmth and welcoming! From the welcome mat to the wicker pumpkins and hanging accent pieces, I love this front door! The wood slice "happy fall" wreath and twigs will enhance this beautiful rustic decor for your fall entrance.
17. Real Leaf Rustic Fall Art
Getting rid of the leaves in your front yard doesn't have to be a complete chore! Gather fallen leaves from your yard and transform them into a beautiful piece of art the tributes the fall color. Like this example above, use the leaves to create a mosaic of an even greater leaf or other festive shape! Enjoy allowing your mind to turn to creativity mode and see what you come up with!  Find the tutorial here.
Still looking for one more rustic decor for fall? Check out this video from MissLizHeart
Which rustic décor for fall will you DIY for your home this weekend? Let us know in the comments below.
Follow us on Instagram, Twitter, Pinterest, and Facebook!
Like this? Then, you'll also LOVE!
18 Fall Wreath Ideas For Your Front Door
24 Home Improvement Ideas For Your American Dream Home